William Saletan tweeted the following image, commenting that his son lost five points on his health test for giving the "wrong" answer: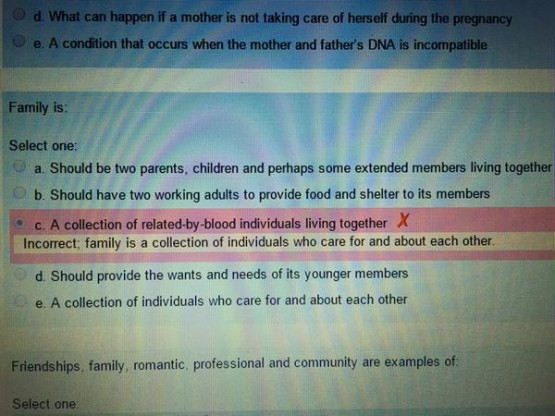 That is one mess of a question. First, Saletan's son gave an incorrect (or at least incomplete) answer. However, the "correct" answer is wrong, too. In fact, those are the only ones that are demonstrably wrong. The others may be right or wrong depending on one's perspective on the way that things should be. To mark those wrong is to expressly deduct points to someone for having the wrong opinion. The first two might be right or wrong also depending on perspective, but it's not quite the same level of opinion involved as there are legal ramifications and such.
Kid Saletan's answer is wrong because adoption is a thing, and the "correct" answer is wrong because that would describe my former roommate and myself, and we weren't a family.
It's not a really easy question to ask in any event. The only answer that I would be comfortable calling correct is something along the lines of "People who live together, care for one another, and consider themselves a family." That leaves out the part about intended perpetuity (of the relationship, if not the living arrangements), though that has a degree of subjectivity to it. But then, so does any attempt to define "family." Which makes the inclusion of the question all the more questionable.
About the Author
If you are interested in subscribing to new post notifications,
please enter your email address on this page.