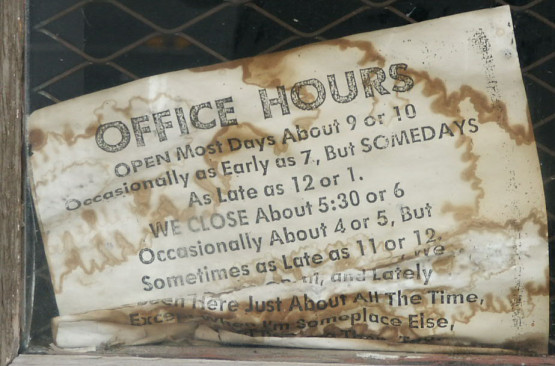 The discussion of Indiana, RFRA, and anti-discrimination law and mandatory provision law (think contraception) brings up an argument I often hear: You might be able to let urban locations discriminate, but in more rural parts, you might run in to situations where they are the only X in town and the next one is two hours away!
This… is the case a lot less frequently than you think. And applies to remarkably few people. Sufficiently few that, on its own, it's not really a compelling argument for national or even statewide policy.
I have lived and spent time in some pretty rural places. One of the things that surprised me is that even in pretty small towns, there are often more than one of just about everything. Callie, Arapaho, has between 4,000 and 5,000 people in it. If we take the county, and even include the neighboring county, you're still in the very low five digits with a population density of between 1 and 2 people per square mile. Callie has four auto repair shops three pharmacies, three auto mechanics, two coffee shops (more than two, really), two medical clinics, two barber shops, two veterinarians, and two grocery stores, and two towing services. There were ones of some things, and there were none of a lot more.
This is not to say that there aren't any one-pharmacy towns. But they're hard to find. First of all, because the cut-off to being able to support two pharmacies seems to be somewhere in the four digits, that includes a whole lot of people we consider to be Rural Americans. Even relatively poor counties often have more than one, or go back and forth between one and two indicating a danger in taking the community for granted.
I blame television.
In the Andy Griffith show, Mayberry had one of just about everything. There seemed to be one of a lot of things in Twin Peaks, too (which technically had 50,000, but only because the studio made them change it from 5,000… trust me, it was a 5,000 town). But that's a casting decision. Keeps things simple.
Now, there is the phenomenon of places in small towns closing. So a county that has two may go down to one. But… a town with only one may go down to none.
The towns to the east, in the neighboring county, was a single-pharmacy town. But it closed, right about the time that the third pharmacy in Callie opened up. Which is often how it goes. Even within small towns, there is a degree of consolidation. A place in some outlying small town goes out of business in favor of something in the county seat. That sort of thing.
Which brings me to the next thing, which is that as daunting "driving 60 miles to the next-nearest [X] seems"… it's also a fact of life when you live in the middle of nowhere. My wife and I would drive five hours to get to the airport. To some extent, that's part of the decision you make when you live in rural America. It would definitely suck if the only pharmacy in town didn't do contraception, but others live in towns without a single pharmacy. More do, I suspect, though for them "the nearest pharmacy" is likely to be located next to another pharmacy or two. And a store where you need to run errands anyway.
In the case of contraception, I would add, even in some rinky-dink conservative town, a pharmacy that refused to sell one of the most commonly prescribed drugs on the market would have serious problems. If you're operating out in the middle of nowhere, I'm not sure how much business you can afford to turn away. especially when you're not just turning away the business for those particular drugs, but often the families of people who need it because they'll just pick up their other prescriptions when they go to the county seat or the next county's county seat.
It is trickier with anti-discrimination legislation, but the scenarios I see people concoct sometimes contradict my experience. The things I would most worry about being gay or a minority in ruralia isn't that "the only barbershop in town won't cut my hair" but "some employers won'tl hire me and I'm having trouble getting a lease." My concern for the latter (two) is why I am sympathetic to anti-discrimination legislation, though it has less to do with places where there is the only X in town, and more to do with cultural contagion that spreads to some larger places to, as well as with the fact that job markets and housing markets can be awfully tight – even in larger towns and cities – and a single rejection can have significant consequences.
About the Author
If you are interested in subscribing to new post notifications,
please enter your email address on this page.