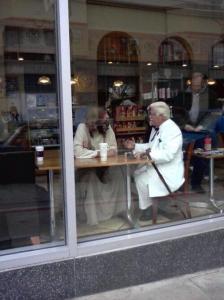 Peter Orszag signs on to the Georgist land tax.
This is a great story. Men suck. Women are awesome.
Here's a good interview on the aftermath of a (justified) cop shooting, and the toll it took on the shooter.
Kevin Carey argues in favor of a national university, making heavy use of technology as a way to address runaway costs. This idea might sound familiar to you. The George Washington angle is great.
Sweet: Turning a silo into the ultimate treefort.
A peek inside the birth tourism industry. In the greater scheme of things, this sort of thing isn't likely to involve the kind of numbers to have an effect.
Finding a lost city in Mesoamerica.
Here's a list of the 20 quirkiest cities in the US. Austin, New Orleans, and Portland taking the first three spots doesn't surprise me… but Kansas City's presence on the list (#8) does!
When politics and humor intersect, this cartoon seems to be the inevitable result.
Raising the minimum wage has some expected (though eminently logical) new supporters. Will they fill the void in Seattle?
Mother Jones actually has some nice words to say about the Washington Free Beacon. The WFB is… odd. Good news stories juxtaposed against obvious photoshopped images of birds combusting mid-flight due to solar panels. But it works, and it's one of comparatively few conservative sites I read with devotion.
An Indian-American friend of mine argues that one of the main reasons that India never became a manufacturing hub the way that China did is because graft made it impossible. American-expat-in-China Matthew Stinson tweets of this New York Times article, that graft in China is so ubiquitous that it tends to go unnoticed.
About the Author
If you are interested in subscribing to new post notifications,
please enter your email address on this page.