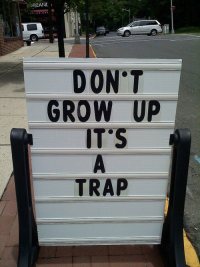 I am not one for public marriage proposals, but I don't have a problem with this one if the bride doesn't. This, on the other hand, is smackworthy. Coincidentally, a character in my first novel proposed along these lines. If I ever go back and clean that novel up, I have long-since decided that he won't have. On the other hand, legos are a winner.
The Economist has a good article on spectrum, Verizon's acquisition of it, and whether the whole thing is being handled like it should.
This is yet another reason I hate DRM. Look, if you want to sell it to us, then sell it to us. If you're leasing it to us, then lease it to us. But don't pretend you're selling when you're leasing. (Note: The Bruce Willis angle was bunk.) Copyright enforcement on the whole does lead to funny incidents like this.
Josh Barro proposes a "Race to the Top" for housing. I wish I could get on board with this as I support building up in addition to building out. I just don't like using the federal purse strings to do it.
The Washington Post has a good post about sexual abuse by women against boys and how differently we respond to it. A more thorough look at the science behind pedophilia.
From 2006: A look at the awful coverage of Hurricane Katrina. Which the media still brags about.
I, too, hate this "fact-checking" fad. Investigating claims and putting them in context is helpful, but trying to grade a fact-check is a recipe for bias.
A mom doesn't like the boy who is legally sniffing around her seventeen year old daughter. So what does she do? The invents a fifteen year old to entrap him and send him off to prison. Not that the perp acted with a great deal of class here, but the whole thing rubs me the wrong way.
Nooks are being banned from libraries because blind people can't read them. This can be fixed with text-to-speech, which the Kindle offers. But oddly enough, you can't just offer Kindles to some and Nooks to others. It's like banning books that aren't in brail.
President Clinton is concerned about the number of Americans enrolled in college. According to the Economist, he shouldn't be.
About the Author
If you are interested in subscribing to new post notifications,
please enter your email address on this page.