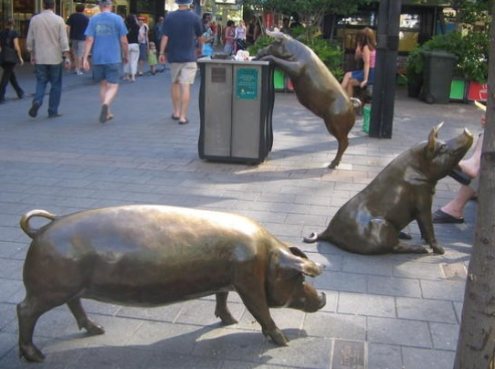 In roughly one in five property seizures, the IRS does not follow the law.
Kaid Benfield argues that high-density sprawl is still sprawl. Here is where I think the problem with his argument lies: The wide open spaces surrounding the dense communities may not stay wide open very long. The pattern back home is: first the houses, then the businesses, then the employers.
Also, since I have been known to talk up businesses moving to the suburbs rather than people moving back to the city, intellectual integrity requires I link to counterexamples. This isn't the first time I've heard this about Chicago. To be honest, I don't actually like a lot of these suburban business parks. Employers in the suburbs can make a lot of sense, but it shouldn't take 10 minutes to drive through the campus to your parking spot. Alan Ehrenhalt has a book about reurbanization wherein he talks about Chicago, but apparently lacks much data support for his "great inversion" theory.
This has always been a bigger deal for Web than for me, but since he has sort of moved on, a new study suggests that HFCS is actually no worse than sugar.
China's cities are awesome, yet awful. While I mention China, here's more stuff on their ghost cities.
Brazil's cell infrastructure may be collapsing under its own weight.
A look at where the rich and super-rich get their income. Nothing surprising, though I would like more detail on the "other" category.
Our odd college funding system has some Cal State students refusing to accept in-state students.
London Mayor Boris Johnson wants to know how many paedophiles can there be? More about men, kids, and airplanes.
About the Author
If you are interested in subscribing to new post notifications,
please enter your email address on this page.