A conversation in the football post Over There, the size of Texas came up. Said Glyph:
When I was driving cross-country, I tried to stay off Interstates as much as possible, and some long Texas highways were the only ones where I kind of got scared, like, "if my car breaks down, I could DIE out here before I ever see another human being!"
When moving across the country, it seems natural to measure progress by states. the problem with doing this is that it can make Texas a very dispiriting experience. Especially when you go the route we go.
There are two ways to get from the Southeast to the northern Mountain West. The most obvious way involves the Great Plains. It's also the fastest way, but it's also very, very boring (no offense, Mr Cain). On the other hand, if you go through Texas and the northeastern tip of New Mexico, you get to drive along the Front Range. The problem is this: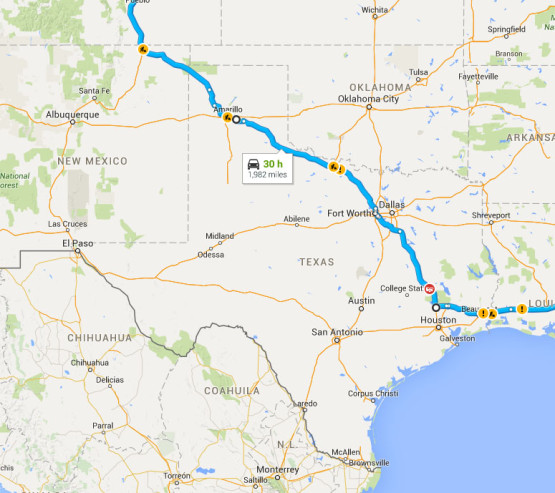 It's like the route is designed to keep you in Texas as long as humanly possible. And not, sadly, the more interesting parts like the Hill Country or the Mountains in the west of the coast. It's the flat, dry, and treeless portion.
And if you're making your progress by state lines, can be a very long 2-3 days.
Anywhere, he's a music video of a Robert Earl Keen song about a (proverbially) long road:
Here's another REK video about Corpus Christi, which is not on the aforementioned route (audio only):
About the Author
If you are interested in subscribing to new post notifications,
please enter your email address on this page.