Last week, Burt Likko showed off the flags under consideration for New Zealand: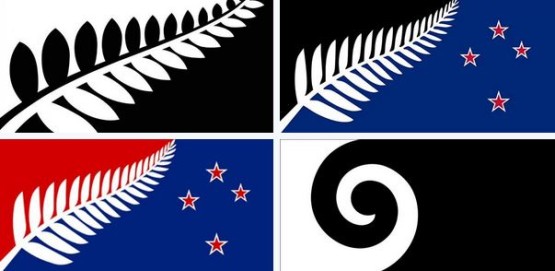 Of the four, I rank #3 (bottom left) the best, followed by #2, then #1 and #4.
For those of you who do not know such things, here are the five rules of flags:
Keep it simple.
Use meaningful symbolism.
Use 2 or 3 basic colors.
No lettering or seals.
Be distinctive or be related. (Avoid duplicating other flags, but use similarities to show connections.)
Here are how the four score:
Flag #1 (top left): 5/5
Flag #2 (top right): 3/5, losing points for simplicity and being four colors.
Flag #3 (bottom left): 4/5, losing points for simplicity.
Flag #4 (bottom right): 5/5
So by pure vexillological standards, #1 and #4 are the best. Yet I prefer #3, followed by #2 and then #1 and #4.
To be honest, #4 has a weird almost fascist feel to it. I'm not sure why exactly. I'm also not sure about the black and white. But if you are going to have black and white, #1 one looks pretty cool. Even though the stars make it a little too complex, I still prefer the other two on account that they stand out. Even apart from the rules, I'm not a big fan of the four colors on #2. If you were to take the red out of the stars, though, I might prefer it to #3.
You can see New Zealand's current flag to the right. Since it exists apart from the UK, other than the monarchy, it may seem odd that it has the Union Jack. I mean, Canada doesn't ever since they got rid of the Red Ensign. However, it's really
not that unusual
. Of course, among those that have kept the flag is Hawaii, which I can't say I approve of.
I wonder what Australia would have done if the republican referendum a little over a decade ago had passed. As the Queen of England remains their queen, there is no pressing reason that it should be changed. But that applies to New Zealand as well.
About the Author
If you are interested in subscribing to new post notifications,
please enter your email address on this page.