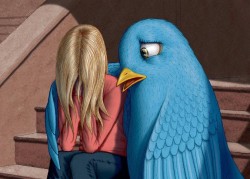 Kristin Wilcox looks at ways liberal arts colleges need to try to sell themselves. (Not sure if I got this from Hanley or I need to forward this to him.)
Uncle Steve applies Moynihan's Law to a recent David Leonhardt and Bradford Wilcox pieces on marital success and family in red and blue states.
Dan Kahan writes about the problem he sees with consensus messaging in the climate change debate.
Tyler Cowen looks at the economic states in Kansas and Louisiana. Scott Sumner tackles Louisiana.
Italy promised pain if the EU didn't agree to distribute the superstate's refugees, but France and Germany are not so sure about the solution.
Rivals Apple and Samsung are teaming up to replace SIM cards.
Police officers are taking advantage of superpowered comrades to fight crime. No masks and capes, alas.
Dick Tracy wasn't a particularly good movie, but it was visually marvelous.
Rent-controlled apartments in Sweden are less segregated by income, but more segregated by ethnicity.
Canadian oil fields are looking at self-driving trucks.
Will Germany's demographic crunch knock it off its perch at the top of the EU?
There are some stories with happy endings of people who use technology to locate their lost or stolen smartphone or laptop. This is not one of those stories.
If oil extraction is causing earthquakes in Oklahoma, it may not be an issue of fracking as much as salt water disposal.
The LDS Church is showing off the stone that Joseph Smith allegedly used to translate the Book of Mormon.
Ross Douthat argues that there is no pro-life case for Planned Parenthood. The results of the Colorado experiment have been oversold, but it's still something I'd like to see pursued.
Did Hiroshima and Nagasaki save Hokkaido from Soviet rule?
About the Author
If you are interested in subscribing to new post notifications,
please enter your email address on this page.