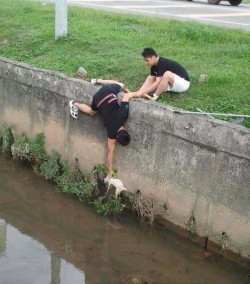 Let them fidget! Fidgeting may be helpful for kids with ADHD.
Nancy Lubin had a really good idea: Texting as a crisis prevention aid.
Alex Cuesta offers a list of simple ways to reduce football head injuries.
Americans may be able to take advantage of low tuition rates in Germany. It's an intriguing proposition.
David Frum makes the case for closing Europe's harbors to refugees, who are in many cases not that distinguishable from immigrants looking for work.
Karl Miller argues that we need to stop looking at technical schools as some sort of consolation prize.
Scott Gilmore says that Canada is too self-satisfied with the status of its racial progress. I can't speak to that, though it seems the comparison with the US (and the racial concerns of African-Americans therein) is rather unfair. Aboriginies/Indians/etc – especially with regard to reservations – are a uniquely difficult issue in the US and Canada.
It's a long stereotype that few people believe anymore, but the stereotype is still there. Noah Smith puts to rest the notion that Japan isn't innovative.
The testimony of a white man with black names.
I… can relate to this somewhat. What do you do with a family heirloom that represents something of shame.
Michigan State sent out a letter questioning the family decisions of faculty. As in, the decision to choose having a family. My wife has gotten this "talk" twice, actually. (Both times from women, as it happens.) (Childless women, though in one case due to tragedy.)
About the Author
If you are interested in subscribing to new post notifications,
please enter your email address on this page.