"Waitaminute. What happened to #Dontbackdown! Free speech is at stake here!" –Stillwater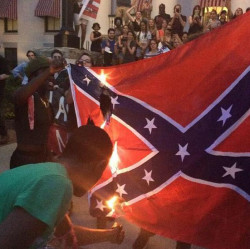 A small bit of backstory. Over There, we had a series of conversations about the Charlie Hebdo massacre and the free speech implications. There were two lines of thought. The first was that we should rally behind Charlie Hebdo and the notion of free speech. We'll call this TFS (Team Free Speech), and consisted of James Hanley, Mr Blue, Oscar Gordon, myself, and others. The other side of the conversation consisted of people who believed that the murders were wrong and claimed varying degrees of commitment to free speech, but believed in the importance of expressing disagreement with Hebdo's speech, defending those who express disagreement, and often against exercising one's freedom of speech in support of such blasphemy in general. We'll call this TAB (Team Against Blasphemy [2]) included Stillwater (who doesn't participate here), Chris (who does), and others.
The conversation created a lot of bad blood, that still gets spilled in ostensibly unrelated threads. Stillwater's above comment was a reference to it.
I'm not sure whether Stillwater was trying to point out an inconsistency within TFS, or mocking them for being indifferent to offensiveness, or both. It might have been both, the first for those who want the flag to come down and the second for those who don't. I can't really speak to the second, but as a TFSer who wants to see the flag come down, it does present an interesting question: Do people who would defend Charlie Hebdo's offensive cartoons similarly defend the Confederate flag?
The issue, for me, is that context matters a great deal. While some TFSers might object to any criticism of any speech ever, or at least object to criticism of any speech they disagree with on the basis of "Free Speech", that wasn't really my position or how I read the position of the others. Most of the time, the justification (or lack thereof) in criticizing Hebdo depends almost entirely on whether the criticisms are correct. Which is to say "Are these cartoons offensive or should we defer to those who believe they are?" is the primary question of relevance.
Which changes almost immediately, though, when violent terrorism occurs. As soon as that happens, the context changes. Not permanently, and pretty immediately. At that point, I could care less if the cartoon was disrespectful. It's beside the point. Conversations about whether or not we should say offensive things become out of place. In the context of blood a murder having just occurred, it's really the murder that's the important thing and any mention of objecting to the cartoons is an afterthought. I mean say it, or don't, but if that's your central point, I'm not particularly interested in your point of view.
Time has passed, though, and the context has changed. So if you want to talk about whether we should or shouldn't make fun of religion in a way that makes people mad, we can definitely have that conversation. I find many of Hebdo cartoons to be rather defensible, but I think a lot of criticisms of Islam – including cartoons – are often things that are better left unsaid.
What about the Confederate Flag? This is where context matters. And I don't see much inconsistency here. I want the flag to come down from the South Carolina statehouse. I want the emblem removed from Mississippi's flag. Last week I approvingly tweeted a photo of people burning it. And though people have a right to fly the flag on their cars, I'd like them to take it down. I have no issue – whatsoever – of criticizing the Confederate Flag as bad speech that should be scorned.
But if someone bombed a Daughters of Confederate Veterans office building, or shot someone who had it flying on their car, then my objections to the flying of the Confederate Flag go on hold. And I would be (at least) biting my tongue on anyone whose primary interest in such a story is that the Confederate Flag is wrong, wrong, wrong. Yeah, it may be wrong, but in the aftermath of such a killing, it's secondary. (And meanwhile, in our timeline, taking down the flag would be a thumb in the eye of the person who committed the violence.)
Would I put the Confederate Flag on Hit Coffee? No, for some of the same reasons that we didn't republish Hebdo, and for some different ones as well. The first of those reasons are personal and not especially pertinent[1], but the second reason is a rather significant difference between the two. There is no ISIS for opponents of the Confederate Flag. There is no group of people where I believe that giving them what they want might encourage them to engage in more violence. There is no organized violent opposition to "Back down" from, assuming that the bomber or murderer either acted alone or as part of an otherwise-irrelevant group. But tweak the circumstances – and context – a little, and my views align perfectly.
But even though I have negative assumptions of people who put up the flag generally, in the context of violence having just occurred, I would consider it an expression of speech rather than an expression of support for the Confederacy.
[1] The first reason is that I am myself a southerner, and therefore I have to be particularly careful about such associations. It's too likely the content of the speech would be considered endorsed, rather than the speech of the speech. The context for me, personally, as well as most white southerners, is inherently going to be unfavorable.
[2] In the comments, Chris says it was not so much blasphemy as mockery that he was objecting to, so wherever you read TAB, TAM (Team Against Mockery) may be more appropriate.
About the Author
If you are interested in subscribing to new post notifications,
please enter your email address on this page.