Kavitha Davidson writes about the NFL holding San Diego hostage as they try to extort a football stadium out of the city. The threat, of course, is Los Angeles.
The fight over a new team in Los Angeles shows that teams are incredibly calculated in their strategy of holding their existing cities hostage. The Chargers, Oakland Raiders, and St. Louis Rams are all competing for the chance to move to Los Angeles, or at least publicly threatening to do so to see just how much they can squeeze out of their local governments. And they're getting a boost from their compadres at other organizations, with various owners stating that football in Los Angeles is a foregone conclusion. "It's not a matter of 'if' now, but 'when,' " Indianapolis Colts owner Jim Irsay told the San Francisco Chronicle. San Francisco 49ers chief executive Jed York explained that the franchises' current cities haven't made enough of an offer to keep their teams in town. "I think L.A. is much further along than any of the home markets at this point," he said.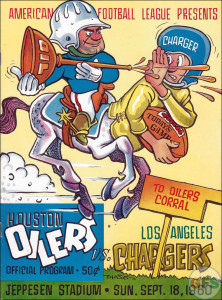 The quirky thing here is that all three teams used to play in Los Angeles, though the Chargers for only one season. The particularly funny thing about the Chargers were the leading voice to keep an NFL team out of Los Angeles the last expansion. They wanted Southern California to themselves. Houston, instead of LA, got the team. There's a good chance if Houston hadn't gotten the team they would simply be threatening to move the programs to Houston instead of Los Angeles, but Houston is a bit less threatening in that regard.
What is so ridiculous about this is that the NFL is acting like there is some market force at play here. As though it is some natural state of affair that there be 32 football teams. The threat of Los Angeles only exists because they won't expand. There really isn't much doubt that St Louis, Oakland, and San Diego have the fan base to support a team. There's really no reason that they can't all have a team, along with Los Angeles and maybe San Antonio, and everybody's happy. Except, of course, not everybody's happy, because the billionaires want a new stadium, and would prefer not split the money more ways than they have to (this is where the NFL's pinko-commie model is a hindrance).
The population has grown, but the number of NFL teams haven't. There are fewer teams per-capita than there have been since the NFL-AFL merger in 1970. As of a few years ago, when I had a handy spreadsheet, there were between 7-10 cities (depending on things like whether you count San Jose as a new market) that are larger than the five smallest existing markets. Plus, New York could hold a new team (imagine a New York team that actually played in New York!). They could expand to as many as 40 teams and still not be overextended. Expanding by two, or even four, doesn't strike me as reaching too hard. You wouldn't even have to go to London.
I've actually come around to the notion that it might actually be something less than ridiculous that cities are footing the bill for stadiums for billionaires. I think there is a logic to it, just as there can be a logic to paying off any extortionist. The problem is the extortionist, and that congress let's them do this and keep their broadcast anti-trust exemption. There is a screw there to be tightened, if they were so inclined.
In other news, the NFL is going to be making the extra point more difficult, by requiring that it be kicked from the 15 yard line. Benjamin Morris of 538 says that it won't actually be that much harder, while James Brady is citing safety concerns.
Personally, what I don't like about it is that it removes fakes from the equation, more or less. It basically requires teams to declare whether they will be converting or kicking. Fakes are one of the few interesting things that happen during PAT's.
What I would personally like to see is a third option. They can kick a PAT from the 15, they can go for a 2-point conversion from the 2-point spot, or they can go for X-points by trying to score from the fifteen. X would need to be determined mathematically, but I'm figuring about four points. It would definitely make things more interesting if a team could score 10 points on a single drive, and we wouldn't know exactly what they were doing when they line up at the 15.
About the Author
If you are interested in subscribing to new post notifications,
please enter your email address on this page.