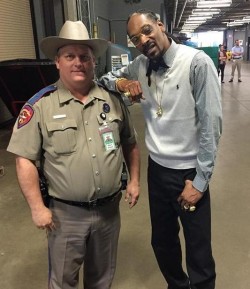 The officer in the photo to the right was reprimanded for it.
Jessi Strieb wrote a book on cross-class marriages, and here's an interview.
Here's a map of all of the places Willie Nelson sings about. I want to see one for Counting Crows, which include a lot of songs about some person in some city who is sad and dispossessed.
Millenials are flocking to the suburbs.
But only certain types, says Jordan Weissman. There are class implications, because educated millenials are still moving to the city. Personally, I would guess this is a function of family formation as much as inequality.
Are they being driven to home ownership by rising rents?
More on the exurban revival.
The curse of the lottery winner may be overstated.
Benjamin Schwarz argues that urban planners are demolishing Britain's working families.
Sayeth the Department of Energy: Drill, Baby, Drill.
The Guardian has a couple of articles on the privitization and gating of cities.
This will not only add economic efficiency to consumer products, but will be great for those of us who are allergic to waste.
About the Author
If you are interested in subscribing to new post notifications,
please enter your email address on this page.