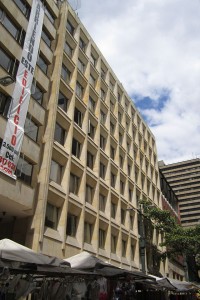 James thinks I need therapy, on account of my affection for Brutalist architecture.
Which got me thinking… why do I like it? It's not like I am particularly an architectural critic. I'm not even sure it falls under the category of "Having an opinion to have an opinion," which I sometimes do.
My first thought was comic books, which explains my aesthetic tastes in some things (like solid colors over patterns). That would explain my appreciation of gothic architecture, for example. But if brutalist architecture is common in comic books the same way that gothic architecture often is, I can't think of any examples.
But I like it for its simplicity, raw utilitarianism. Yet I don't have the same fondness for the glass boxes that take up skylines (I don't dislike them, either, but it's not the same). But my instinct is along the lines of "I like it because that's how government buildings are supposed to look." Why do I think that?
I think it's because of my dad.
My father worked at a sprawling government installation that more or less defines the area of the suburbs where I was raised. I will call it Livingston AFB. And he actually worked on the base, as opposed to across the street where my brother does. Which meant that when I went to see him at work, I would go onto the base with all of its buildings that were… brutalist. Or something indistinguishable to it, to my eye.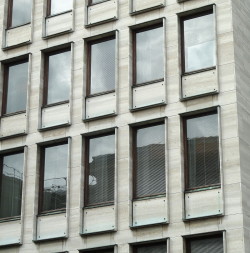 And of course my father was awesome, the government agency he worked for was awesome, and all that jazz. Better yet, it was in the pre-9/11 days when you had a degree of free access to it (I think the sticker on our cars were required), and driving around it was interesting with all of the planes and other aircraft they had on display. And, of course, it was the very symbol of the federal government where I grew up.
So other designs that are so-called "nice looking" and a hoity-toity "non-depressing" and "sort of looks oppressive" carry no truck with me.
And of course, once you like something and dislike something, you come up with more reason to like or dislike it. Which is probably where my "honesty in architecture" comes from. And my vague belief that government facilities shouldn't look nice. They should be there, and tolerable. Like the government! Or something.
About the Author
If you are interested in subscribing to new post notifications,
please enter your email address on this page.