In a discussion over at Ordinary Times about banned books, Zic made the following comment:
There is another form of banning: limiting availability. I've spent a lot of time searching out out-of-print books; I own several collections; the White Mountains and mountaineering/hiking in general, field guides, gardening, knitting, cooking, science fiction.

When books go out of print, they become rare and elusive, they're banned from general public access (with the exceptions of inter-library loans, Thanks Maribou!)
While this is obviously not a "ban" in the same sense as banned books, it is a significant hindrance of access that has a larger and deeper effect on availability than actual attempts to ban books in the more traditional sense.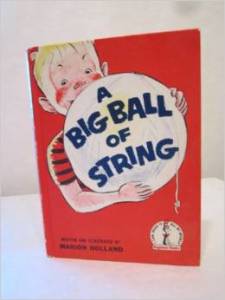 One of Lain's favorite books is A Big Ball of String. It was written in 1958 and incorporated into Dr Seuss's "Beginners Series." The plot involves a young boy who wants to gather a big ball of string, and having gathered it, has an adventure trying to figure out how to do. It's snappy in the Seussian manner, and I really like it because it prizes childhood imagination and ingenuity.
The book looks like it is long out of print. As you can see if you followed the previous link, it sells from $23 for a heavily used copy, to over $650 for a "new" copy (by which I assume they mean in its original packaging.
Why is this book no longer available? Well, there are two potential reasons. The first is that it simply didn't sell very well. The second is that one of the subplots involves a toy gun, which may not be kosher with some parents and may garner bad publicity (which starts sounding just a bit like corporate censorship).
On the first count, that used to hold more sway than it currently does. This day in age, between ebooks and print-on-demand, low sales shouldn't be the barrier that it once was. It's also noteworthy that this was a book written fifty years ago. The fact that it's still held in copyright, by a publisher that (assuming it's not the toy gun) that has no interest in it, represents something aggravating about copyright law. Even if we grant a right to near-perpetuity when it comes to profiting off creative works, in cases like this they seem to actually have no interest in it. But since it's still under copyright, nobody else can, either.
About the Author
If you are interested in subscribing to new post notifications,
please enter your email address on this page.