Today was spent mostly in transit, as we take our annual family trip to the beach.
Lain has officially kissed a boy, for the first time. I didn't see it because Clancy and I had split up duties and I had parked the car and was walking to the gate. But evidently she made a friend. Lain has learned to kiss I guess by watching Clancy and I, and had taken to trying to kiss us. Well, she kissed the boy, who was a little under a year old.
The other thing, which is slightly less interesting but was more fun for her, was that she got to sit in the deck of a fighter plane (of sorts). They had one at the airport of our final destination. She seemed to enjoy pulling on the nobs and levers. My primary observation – independent of her enjoyment – is that it's a good thing I never had designs on being a naval or air force pilot, because I would never fit in one of those things.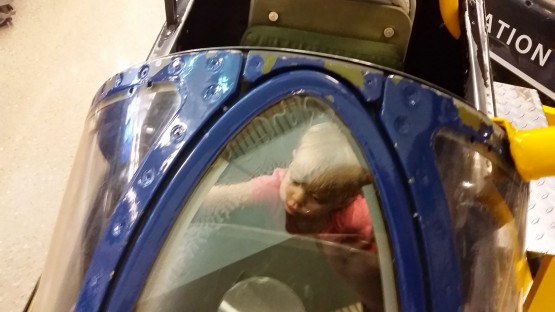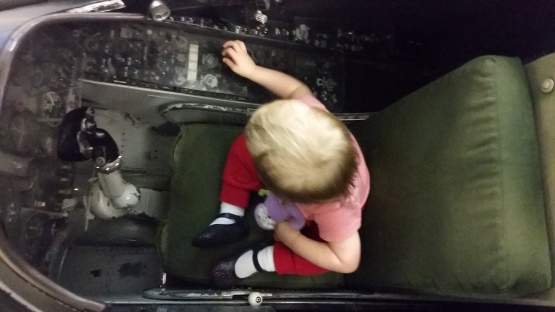 I was operating on less than five hours of sleep, and felt it every bit of the day.
I find that I have completely lost the ability to sleep on planes, no matter how tired I am. If I couldn't do it today, where I was so sleepy I was almost in pain, I simply can't do it.
Lain didn't sleep on either leg of the flight plan. She did nap a bit on the drive from the airport, but that was about it. She's really excited to see her grandma and grandpa.
Taking a vacation in the middle of a move is both great and terrible. It's great because you need the break. It's terrible because trips involve packing, and packing is best done when you know where everything is.
Because we got here so late, we didn't get a chance to go out on the beach. Which is just as well, because last week a couple of friends shared the following two images:
Those would be stingrays. Stingrays are a thing where we are. I've never seen them in that number, but at least in that number you know to stay the heck away. But now I've got stingrays on my mind.
About the Author
If you are interested in subscribing to new post notifications,
please enter your email address on this page.