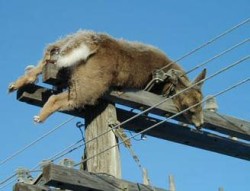 Gordon Lightfoot participated in a Reddit Ask Me Anything.
A peek into the sinister world of debt collection. It's a very gripping story.
Astronauts can teach us about sleep. Also, the smell of space.
Britain has a phantom alien cat problem. Wait. What?
I mumbled and grumbled with the USB port came out. What, another one? But I was sold on the ability to hot plug in on a computer that was already on. Even so, I had no idea of its staying power. ArsTechnica gives us the history of the USB, the port that replaced just about everything.
A gripping World War II tale of a chicken farmer, a pair of princesses, and twenty-seven imaginary spies.
Dubai knows that the oil wells will run dry. They're already working on their next phase.
Julian Morris presents the case for plastic bags.
The link between poverty and crime may have been overestimated. Or, alternately, may be purely a function of where a family started out when the first child was born.
Officers in California have allegedly been using official resources to screen online dates. Once upon a time, it was really easy to get DMV information online. I actually used it regularly (it contained height-weight measurements).
Once upon a time, I would have been thrilled at the challenge of The World's Spiciest Bowl of Noodles. That was before the Ghost Pepper incident.
The stated reasons for increasing H1B visas are not matching up with reality, at the moment.
How men and women approach posted job requirements. It was only chance that I didn't approach it the way that women seem to, and decided to just kinda go for it. It's definitely something I hope to pass on to Lain.
About the Author
If you are interested in subscribing to new post notifications,
please enter your email address on this page.