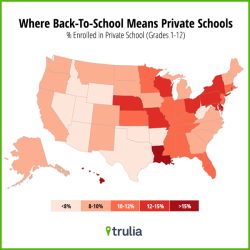 Finally! The map I have long wanted to see: Which states send kids to private schools in large numbers.
It's one of those obvious statistics that should have been easily accessible, but I've never had luck in finding it. I found the results corresponded with my biases pretty, though with some exceptions:
I'm not surprised that it's most prevalent in the northeast (broadly defined), though I would have expected it to go further east into Massachusetts and Connecticut and wouldn't have figured that it would count Ohio. I suppose with Massachusetts having one of the best school systems in the country, it's not particularly necessary. Perhaps also, Massachusetts sending many of its best and brightest to public schools may help keep it on the top of public schooling lists. Then again, Maryland has good schools and still a lot of people going to private schools.
Less common in the South, excepting Louisiana. The Pelican State has a robust Catholic schools. I didn't particularly expect Mississippi and Alabama to be outliers, and if guessing would have guessed that they'd have lower numbers than Dixie's eastern seaboard.
I would have been surprised by Wisconsin, though that came up during the recall elections and whatnot, that private schools were more common there. I'm not sure why.
By far, the most surprising state was Nebraska. Really, I would have figured that the central column of states would be relatively similar. Instead Texas and the Dakotas are low, but the others are high. While Nebraska is the biggest surprise, I wouldn't have expected Kansas or Missouri, either.
It's interesting, if not surprising, that both Utah and Idaho have such low rates. One can imagine an alternate history where the LDS has its own school system the way that Catholics have theirs. Instead, with the degree of social domination they have over Utah and eastern idaho, I suppose they had their Mormon schools in the public school system and having private Mormon schools would have been a duplication of effort.
Hawaii. Huh. I'm not surprised, because I wouldn't have hazarded a guess. But it does kind of stand out.
There is less variation between the states than I would have guessed. You have some below the 8% cutoff so they could have next to none. There aren't many at the higher end, though, and that surprised me a little bit. Off the deep end, though, it's just Louisiana, Delaware, and Hawaii.

Since Catholicism likely affects the rates, I am including a map with that data point to compare and contrast. Obviously, this is likely to be more pertinent in some places than others. For example, the higher rates in California are due no doubt to the higher Hispanic population, which may not track with private school attendance the same way that it would in Louisiana. It does a good job of explaining Louisiana, for example, and Rhode Island. Less so for the Hispanic states, and you would think that it would lead to higher rates than Massachusetts.
About the Author
If you are interested in subscribing to new post notifications,
please enter your email address on this page.