Superdestroyer and I have gone back and forth on the future of lower-level athletics, with him believing that there is none and that before long schools will start dropping football programs and myself believing that (while some may) most will hold on and take the financial loss.
The University of Hawaii is talking about dropping its football program:
Athletic director Ben Jay on Monday asked officials to help lobby the state for $3 million to help keep the the school's athletic teams competitive or it may have to consider a reduction in sports, according to a report in the Honolulu Star-Advertiser and KITV-4 News.

"There is a very real possibility of football going away," Jay said under questioning by members of the Board of Regents Committee on Intercollegiate Athletics, the Star-Advertiser said.

But, he said, "but even if football goes away, all the revenues that football drives goes away and then it becomes a costlier venture for the university."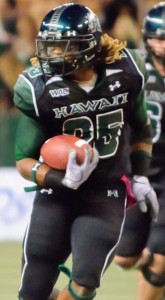 Most likely, he's bluffing to get the state to cough up more money. The other FBS programs that have talked about dropping their programs (San Jose State, Rice, and Tulane) haven't. Further, Hawaii is in the Mountain West Conference which is presently in a better financial position than those other schools in terms of revenue.
On the other hand, Hawaii is not a school that necessarily benefits from having a football program. The benefits are mostly comparative, and Hawaii has almost no competition within its state and appeals to a particular kind of student outside of its state. While having a football program or not may be the difference between having heard of Georgia State and not having heard of it, and mentally comparing Georgia State to Georgia Southern, the University of Hawaii has the benefit of being the flagship state university of our nation's most unique state.
Which is how they have stayed competitive despite numerous disadvantages. I was stunned when I read an account of why June Jones made the lateral move to SMU. He had no recruiting budget and had to actually recruit players that had either never been to the campus or payed their own way to visit it. The facilities are in exceptionally bad shape. They do seem among the more vulnerable to dropping their program.
Other than the realignment ramifications – explored below – Hawaii exiting football would have two effects. Since Hawaii is in a particular position, I wouldn't expect other schools to start suddenly re-evaluating football. It would, however, put an end to one of the pecularities of FBS football, which is that the NCAA allows teams that make the trip to Hawaii the opportunity to play a 13th regular season game. It is an effort to induce teams to take the long and expensive trip out. The second is the almost certain demise of the Hawaii Bowl, which was pretty much set up solely for the sake of giving Hawaii a place to play during bowl season. Typically, the the participants in the bowl are teams that have trouble filling their own stadium, and aren't going to bring crowds to the Aloha State. While it's a reward for players on teams that become bowl eligible, it's an even greater money-sink than most bowl games and the visiting teams don't even bring their marching bands due to cost.
Which must have the University of Idaho absolutely salivating. Idaho's football program is currently languishing in the southern-based Sun Belt Conference while they wait for an invitation to the MWC. Unfortunately for U of I, they will probably be disappointed. Not just because UH isn't likely to drop its program, but because if they do they are at best third in line. The first position being BYU, who is unlikely to be interested. The second position being UTEP.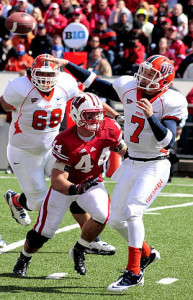 UTEP is also probably closely monitoring the situation. They left the WAC for Conference USA in part for schools that have left Conference USA. There were rumors that they had tried to get into the MWC and were rebuffed. If they can afford the Conference USA exit fee, they'd probably gladly accept the invitation. As things stand now, they're playing second-fiddle to their sister school in San Antonio. Both in the UT system, both with the same colors, except with UTSA having far more potential as a program. Geographically, they are a better fit for the MWC as well. For the MWC, they would be able to claim the El Paso market and have a presence in Texas (albeit barely).
If UTEP did make the move, then Conference USA would probably need to move to replace them. Last time around, Western Kentucky beat out New Mexico State for the slot. There is a strong likelihood that UTEP played a role in keeping New Mexico State out, and with UTEP out of the picture NMSU may be able to step right in. Though Arkansas State and Louisiana-Lafayette have been mentioned as potential candidates, neither seem particularly likely to me. Both other competitiveness, but Arkansas State doesn't offer much of a region or market and has a lackluster academic profile. Louisiana-Lafayette has the academic profile, but not much of a market. More likely is that they would skip straight to Georgia State, which has made it clear that they are working to invest heavily in getting their fledgling program off the ground (plus: Atlanta!). Since UTEP itself isn't very good, they can afford for the replacement not to be very good. Another possibility would be Massachusetts, which is looking for a home for its football program. However, that's unlikely as UMass wants to keep its non-football sports where they are and the last time C*USA had this choice (with Temple) they were uninterested in football-only members.
The Sun Belt, whether losing Idaho or some school to Conference USA, would probably not expand.
About the Author
If you are interested in subscribing to new post notifications,
please enter your email address on this page.