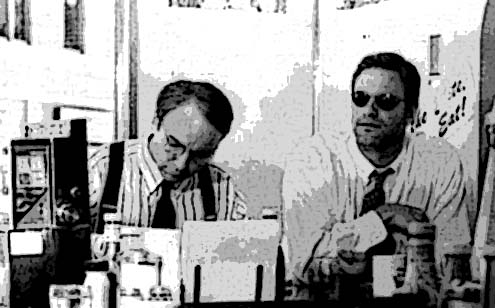 "Verily, I have often laughed at the weaklings who thought themselves good because they had no claws" -Nietzsche
I saw the movie In The Company of Men again over the weekend and it touches on a number of themes that have been explored over at Bobvis and here. The basic plot of the movie is that the very examplar of the "alpha male" breed teams up with a passive middle-manager type on a business trip for some extracurricular activity. Both emasculated and angry at women, they decide to find some vulnerable woman, both pursue her, and both disappear into the night when they go back to corporate HQ. The find a secretary that is beautiful, but very self-conscious about the fact that she is deaf.
This post does contain spoilers, so if you're planning to see the movie soon, skip it.
As the end of the movie approaches, it's apparent that the passive Howard has truly fallen for the film's heroine, Christine. Christine, meanwhile, has chosen the charming but nefarious alpha-dude Chad who hides his seething contempt for Christine underneath a charm and social grace Howard is incapable of demonstrating even when he is sincere.
"Can't you see?" Howard emphatically explains, "I'm the good guy!"
His sweet talk falls on deaf ears in more ways than one. But the fact that Howard still sees himself as the good guy is instructive. In his mind, he was merely the copilot. It's Chad that was the enemy. And sure enough, Chad is by far the more evil of the two. Chad revels in the mischief while Howard mostly goes along with it until he suddenly sees a self-interested reason not to. Chad may be evil, but Howard is weak enough to serve the same ends.
I was reminded of the Nietzsche. Howard thought he was good because he was powerless. He was powerless in the face of Chad's charisma and then was too weak to follow through with it, falling in love with Christine because she was pretty, pleasant, and just vulnerable enough to want him back.
"You! You are [expletive] handicapped. Do you think you get to just choose?!"
Don't you get it, he may as well have said, you're a damn cripple and I'm the one that's okay with that!
You're in pretty dangerous territory when the biggest thing you have in your favor is your willingness to tolerate some aspect of who they are. A rich guy who thinks that a girl from the other side of the tracks should jump at the opportunity to marry into money cause most guys with money wouldn't look at her twice is likely in for disappointment. Spungen points out that older guys often think they should have a leg up cause they're older and they're willing to overlook age.
I've personally come close to falling into this trap. I consider myself a reasonably intelligent person and for the longest time I wouldn't discriminate based on intelligence. Not that I wanted someone dumb, but that I was willing to tolerate a less stunning intellect and I figured that I was smart would be helpful. Boy was I stupid. the couple dim girls I did date were bored to death talking about anything more complicated than the Ross-Rachel-Joey love triangle on Friends.
Most things that we are "willing to tolerate" are things that others appreciate. Some guys would prefer to talk to any of my erstwhile dates about Friends than about anything that I'd like to discuss and they're probably a more appropriate match. In the case of the movie, another deaf person obviously wouldn't have a problem with Christine's deaf person, nor would a lot of people. But even if Howard were the only person on the planet willing to deal with her deafness, that's still not the basis for a relationship.
Were it not for Chad, it's quite possible that Christine would have fallen for Howard. He does have a steady job, is congenial for the most part, and isn't a bad looking guy. But, in the fury of the moment, all that occured to him was that he wasn't as evil as Chad and was okay with the fact that she was deaf.
The film is several layers of sad and more than a little maddening. This post contains spoilers, but there is relatively little that happens in this movie that you don't see coming a significant time ahead. That's not a knock on the movie at all* because it's a process movie rather than a plot movie. It's not about what happens but rather how it happens. And how it unfolds, one dreadful and tragic scene at a time.
* – But here's a knock on the movie: it is the most poorly directed movie I have ever seen, bar none. Heavy dialogue scenes are filmed from afar. Worse yet, the dialogue's volume is drowned out by whatever else is going on in the scene. A truck passing out back makes more noise than the characters do talking.
About the Author
If you are interested in subscribing to new post notifications,
please enter your email address on this page.