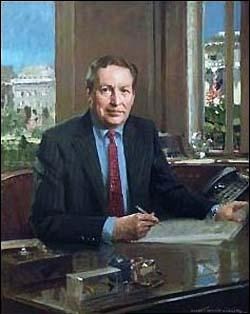 I think the prime factor of the VP isn't the breaks-a-senate-tie. Or any of the informal influence given to them that can be taken away or given to anyone else quite easily. Rather, the issue is that they are the person in line for the presidency before you get into the constitutionally murky issue of handing it over to someone to the legislative branch. Which is possibly someone of the different party.
My view is that it would potentially be a disaster of epic proportions should both the president and vice president be incapacitated. There could be lawsuits challenging the legitimacy of the POTUS while they are executing their duties (particularly if they are of a different political party than the president). The Constitutionality of it is actually a bit iffy. And even if there weren't, it's just bad policy anyway.
Granted, the best way to prevent this from happening is change the line of succession. Which would also be the easier fix. On the other hand, the reason that they did this was that they didn't want the president to be able to choose his own successor. This is one of the reasons that we don't want a president to be able to fire his Vice President: You don't want an embattled president facing impeachment and/or indictment saying to his VP "If you don't agree to pardon me, I will fire you and you will never be president."
Whether that's better or worse than a Pataki/McCaughey situation is uncertain, but I think I will take the latter.
The danger of a president being able to hand-pick a successor (assuming a vice presidential vacancy) has already been nullified when we allowed presidents to appoint successor vice presidents. And second, just as a vice president has to be confirmed, so too do cabinet picks. We're not talking about putting the Chief of Staff on the list. A Secretary of State would be confirmed in part on the basis of their ability to serve as president if called upon to do so (and if eligible).
It's unlikely that we'll ever have a Glenallen Walken situation. There has been some interesting speculation that, in the event that the 2000 election hadn't been settled, Larry Summers would have become acting president because the Speaker and Senate President Pro Tempore. On the other hand, if you have a Speaker or more likely a Senate President who is considering retiring anyway, I could very much see it happening.
About the Author
If you are interested in subscribing to new post notifications,
please enter your email address on this page.