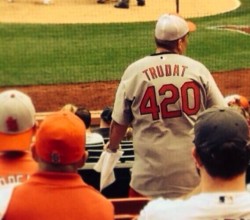 Jerry Kill missed his first full game due to another seizure.
The traditional model is that kids hear lectures in the classroom and do homework at home. Maybe we have it backwards.
I don't feel so bad frequently citing articles from the Atlantic. Their readers – or their commenters, anyway – are the most intelligent of all! Unless you count Ordinary Times, which scored higher.
The NSA has tried and failed to de-anonymize Tor. Linux godfather Linus Torvalds confirms/denies that the US government approached him about a backdoor to Linux.
Here is what we thought Earth looked like from space, before we actually saw what Earth looked like from space.
Germany's latest export? Grandmothers.
The French are an unhappy people.
The new IPCC Climate report hat-tips geoengineering. A Texas plant is on it.
The only reason I care about Blackberry possibly selling out to Google or Samsung is the foolish hope that one of them will release a good productivity smartphone.
Increasing distance from Deseret has lead to a greater appreciation for the LDS Church. But then they start talking like this.
An interesting rundown on the progress of women in Utah. I tagged this for reference sake and maybe a future post, but thought I would share it.
Daniel H Bowen and Collin Hitt respond to the recent Amanda Ripley piece on school athletics, arguing that it is actually a good thing. Honestly, I think they might have the better argument, at least for some kids. I remember athletes who couldn't be bothered to show respect for anybody but their coaches.
David Williams argues that companies should strive to fill their ranks with athletes.
About the Author
If you are interested in subscribing to new post notifications,
please enter your email address on this page.