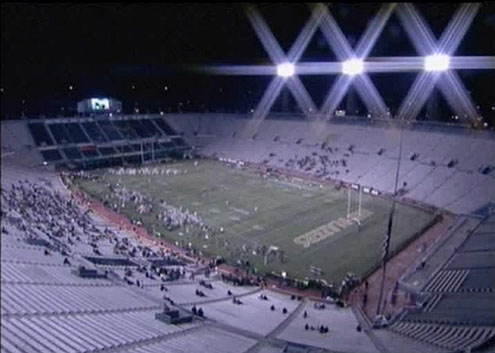 I happened to catch the tail end of the game between UAB and Central Florida last week, wherein the former got their first win of the season upsetting the latter. It was a great game that came down to the final minute of play. Though the network (something called "CSS") was loathe to show wide-angle shots of the stadium, I would guess that maybe 500 people were there to see it. This was an intraconference game with a big opponent (UCF is likely headed to the Big East soon).
At least they aren't Eastern Michigan. UAB claimed that there were 8,000 people there, but I doubt it. At least they have the excuse that it was a weeknight game in somewhat crummy weather. EMU has to hit up their sponsor to buy tickets. Tickets cap out at $9 and they still can't get people to show up.
I am loathe to say that a school should give up its football program because people aren't showing up, but… geeze.
Meanwhile, an SMU player called his team's atmosphere a"pee-wee league experience." SMU, like UCF, may be headed to the Big East. Their attendance isn't as dreadful as UAB's, but it would likely stand out in the BE (which itself is no SEC, attendance-wise).
Southern Tech pushes hard to get people to show up, though is not in the position of EMU, UAB, or SMU. Though University of Delosa people look at any empty seats as a sign of abject failure.
It's all relative, I suppose. But when you're being beaten out by high school football and college basketball in attendance, you have something to answer for in a way that West Virginia (whose coach complained about fewer than 40k showing up for a game) doesn't.
About the Author
If you are interested in subscribing to new post notifications,
please enter your email address on this page.