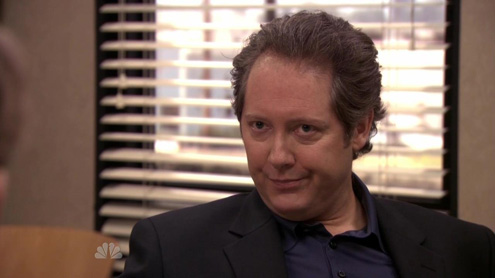 My main thought, upon watching the last episode of last season of the office was: Let it be James Spader! Let it be James Spader! Sweet Lawrd above, let it be James Spader! Now granted, I am a Spader fan from his appearances on The Practice and Boston Legal, so I was anything but biased. But even with that, his character was just awesome. Ray Ramone's was good, too. I didn't like that British woman. But James Spader's character was amazing.
But I knew it wouldn't be James Spader. Everything appeared to be falling in place for it to go to Edd Helms's character, Andy Bernard. It was the natural extension of things. Helms had recently broken the barrier to being on the opening montage. They'd already gone there with Jim and Dwight. The only other candidate was Darryl, and the way the episode shook out they explained why the qualified black guy wouldn't get the job. It was his turn, so to speak. But not only was Spader's character more interesting from the viewer standpoint, he was also by far the best candidate that they interviewed in the show.
So imagine my surprise when it did go to Spader! Sort of. Spader is going to be a regular guest star, having gotten the job and immediately been promoted to CEO. I assume that Andy gets the Office Manager job, thus making me part-right and part-wrong.
The only really disappointing thing about Spader's character is his name: Rob California. Even though the pretext of it being a documentary is laughable, one of the things the show has done up to this point was giving us real, if exaggerated characters. With real names. Michael Scott. Jim Halpert. Andy Bernard. While some works of fiction go out of their way to have "interesting" names, The name "California" sticks out like a sore thumb. More than D'Angelo Vickers did.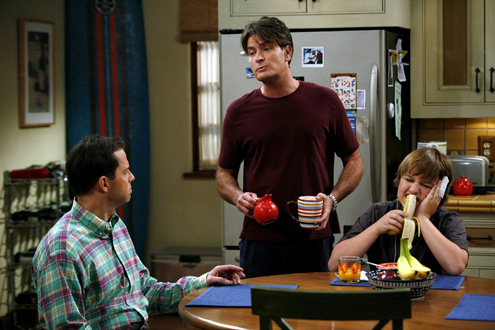 As most of you (who care) know, Two And a Half Men is replacing Charlie Sheen with Ashton Kutcher. I commented before that they could not have asked for a better drop-off point than they had. Charlie Harper and long-time obsessor-neighbor Rose were going off to New York (or was it France?) together. All they had to do was leave it at that. Charlie's gone, kept in some sort of bunker with Rose, who won't let him leave out of fear of what her non-existent, obsessive husband Manny Quinn might do.
But no. Instead, they're killing off Charlie Harper. This strikes me as a matter of Chuck Lorre simply being spiteful at the expense of the story. The buying of the house could just as easily be done due to creditors going after Charlie's assets after his disappearance. And it would have been a more fliud story, with what happens next following what happened previously.
So, color me disappointed. It's gone from a show that was going to be high on my list by the curiosity factor alone, to one that's going to be as low on my list for the next season as it was for the previous.
About the Author
If you are interested in subscribing to new post notifications,
please enter your email address on this page.