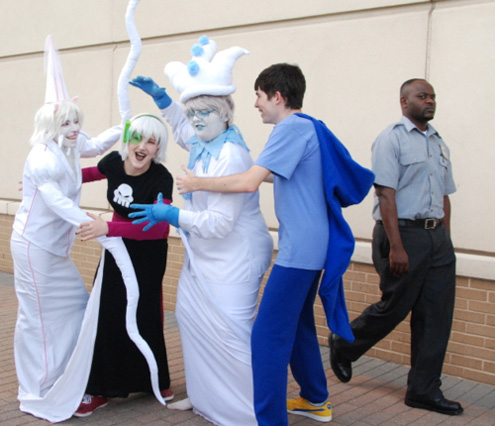 If studies can't prove that the amount of salt we intake is bad for us, then obviously, it's impossible for a study to be good and right. There is some sense to what Hit Coffee nemesis Marion Nestle is saying, but we do have to remember that she is the same person that previously argued irradiation was bad because it allowed the beef pushers to "get away with" selling beef without e coli. Oh, and she thought a 20oz soft drink had 800 calories. Here's a better look at the issue.
A friend of mine commented that environmental regulations are aimed at the corporations and benefit the citizenry. I would question that on a number of levels, but particularly at the moment for those who have athsma. Look, I don't have a problem with wanting to protect the environment, but if we're going to eliminate this OOC we need to make another one OOC or something so as not to come in between people with athsma and the inhalers they need. This can be a life and death thing.
According to Postmasters, the days of Saturday delivery are numbered. They've been saying that since I was a kid, but I believe them this time. Mostly because, unlike in years past, I don't know that anybody would really care.
In a conversation with David Alexander a week or two ago, I commented on a good article I'd read advocating not-so-high-speed rail. Here it is.
The WiFi hacking neighbor from Hell was sentenced to jail for 18 years. Meanwhile, the ex-boyfriend from hell hatched such an elaborate plot that it would make Law & Order blush.
The interesting story of the lowball offer from ESPN that prompted the Big Ten to start their own network and change the college sports model. Even the Big East looks poised to sign a pretty nice TV contract. Too few conferences, to many options for the conferences, I guess.
Also, the difficulty of selling football in Los Angeles. It's really hard to believe that the city has been without an NFL team for 17 years.
The ins and outs of the NFL's new collective bargaining agreement. It seems to me like the players are coming out more as winners than I would have guessed.
A horrifying story of war and homosexual rape in Africa, and the near-complete indifference among goodie-goodie international orgs who fear that any attention drawn to the issue will deflect attention from the female victims that actually matter.
About the Author
If you are interested in subscribing to new post notifications,
please enter your email address on this page.