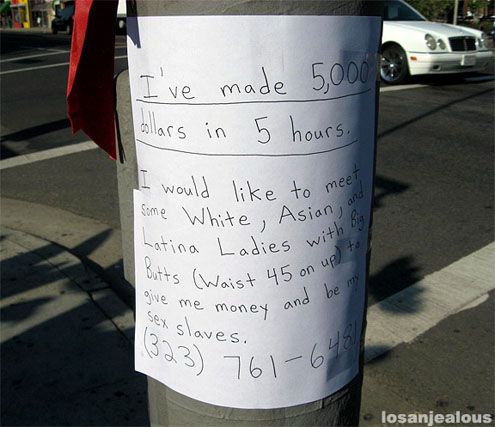 We're moving closer to performers getting royalties on radio airplay. I'm of a bit of a mixed mind on this. On one hand, it doesn't strike me as fair that they get a pass that Internet and Satellite Radio do not and I am not entirely unsympathetic to artists wanting a piece of the pie. On the other hand, in the fact of the alternatives (CDs, MP3s, etc) I have to start wondering how much more music radio can take. The number of commercials they have to run to support dwindling listenership and a weaker ad-market is already enough to make listening to the radio no longer worth it. Will radio be left with nothing else but talk and sporting events?
Is Steve Jobs right about Android? Is it really a case of fragmented/integrated rather than open/closed? For the general market, he could well be. That depresses me a good deal. Fragmentation sucks, but if you don't want from a smartphone what Steve Jobs wants to give you, you're really SOL. A lot of people, it would seem, don't mind being told what they should want.
Speaking of Smartphones, it's my hope that when Windows Phone 7 comes out, that it will eat into iPhone sales since that's what they're trying to emulate. It's my fear that it will eat into Android, the only platform that resembles Windows Mobile, my smartphone OS of choice.
Yet another reason to hate the Comic Sans font. Actually, I don't personally hate the font. Or, at least, I haven't until people got the message to stop using it for everything. Even so, the results of the research paper are kind of weird.
How a San Fransisco lawyer is making a career out of abusing the Americans with Disabilities Act. Of course, the law is the law and so maybe it's not "abuse", per se, but it's not unlike a former State Representative in Delosa who would find "no guns allowed" signs that didn't meet with the most precise of regulations (such as the font-size being two-points too small or the word "allowed" being left off or the strikethrough circle (that thingie on the Ghostbusters insignia) touching the lettering. Anyhow, the state rep used to do it to get arrested and then cry fowl. At least he was working off principle, though, however retarded he was about it.
The secret to having happy employees is to fire the unhappy ones. This goes beyond simply manipulating the numbers. Unhappy employees can really be rather toxic. I've seen it myself.
John Robb on how Facebook and its kin may be undermining the future of software developers.
About the Author
If you are interested in subscribing to new post notifications,
please enter your email address on this page.