Some of you may recall, not all of the students at Liberty University were happy to board the Trump Train:
The group, Liberty United Against Trump, released a statement earlier this week arguing that the school's president, Jerry Falwell Jr., had linked the school and Trump. The group noted that any member of the school's faculty would be fired for bragging about kissing and groping women the way that Trump has.

"A recently uncovered tape revealed his comments bragging about sexually assaulting women," the statement, which also serves as a petition, reads. "Any faculty or staff member at Liberty would be terminated for such comments, and yet when Donald Trump makes them, President Falwell rushes eagerly to his defense ― taking the name 'Liberty University' with him. 'We're all sinners,' Falwell told the media, as if sexual assault is a shoulder-shrugging issue rather than an atrocity which plagues college campuses across America, including our own."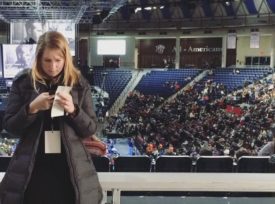 Junior Fallwell responded diplomatically. There have, however, been other incidents surrounding the schism between Falwell and the rest of the school. The first involves a former regent who opposed Trump and later resigned. The second involved a newspaper column the university pulled for "redundancy."
This lead to some calls about college political correctness and "Why aren't the anti-SJW people condemning this!!!!!"
The regent who quit is a non-issue as far as this goes, but the newspaper column story is pretty sketchy (as it pertains to free speech). I guess I do hold Liberty to a lower standard because, contra its name, you know what you're getting when you're going there. It's not Pensacola Christian College or anything, but it is what it is. And it's private. Yes, I also hold Oberlin to a lower standard for those reasons. State universities, and elite future-leaders-of-our-country universities, though, deserve more scrutiny.
All of that said, I'm totally cool making Liberty University the exemplar of the Safe Space mentality. When the University of Michigan does something questionable, we can call it "Acting like Liberty U."
Sound fair?
About the Author
If you are interested in subscribing to new post notifications,
please enter your email address on this page.