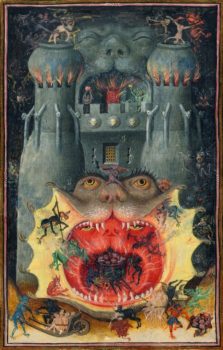 Porky dumped me because I didn't properly understand one of her poems. At least, that's what she said. I thought I understood it well enough. I was even complimentary. But I shared my thoughts, and she explained that I didn't understand it at all and ended with "You know what? This isn't working."
I once had a living situation that was blown up by my two roommates and an argument they got involving Mighty Ducks 3. Dennis wanted to watch the movie, Karl thought it was a dumb movie. They got into a fight, and never spoke to one another again.
When I was working at Falstaff, we (the managers and team leaders) could tell when someone was planning to leave, or at least actively looking for a way out. There would be a 20-30% drop in measured productivity, lunch breaks would take about ten minutes longer, and so on. You'd be surprised the stupid things that can compel one to look for a new job.
Once, Sally was considering leaving a boyfriend over a particular problem they were having. One of her holdups was the problem that of the top 25 ways in which she had wronged him, this was not even on that list. It was small. She was trying to justify leaving despite that.
My advice to Sally (biased though it may have been) was relatively simple: It's rarely the biggest straw that breaks the camels back. It wasn't really about this trifling thing anyway. This was the accumulation of all things. How she was feeling at that moment was really the realization, however come to, that things simply weren't going to get better. He'd left town for a weekend without telling her or anyone his plans. But for a guy that had physically threatened her (with a knife in his hand, at one point), cheated on her more than once, threatened to hurt her friends, it was odd to her that a weekend getaway would be the last straw. But that's just it, it was the last of many, many straws. Sally didn't actually leave him. He left her. Well, I guess technically she left him, but only after he'd stopped calling her, and after he'd demanded (and received) a unilaterally open relationship. She'd basically rode with him to the bitter, bitter end.
The last year or so, she had been looking for the right and justified thing to leave over. The thing that was worse than all of the other things. She was measuring the straws for length and girth to determine that this was the most reasonable straw on which the back shall finally give way. If you're doing that, it means two things. First, it means that your back is pretty strong. That you can take it, but are choosing whether to or not to. It also means that you're likely already deeply in sunk cost territory.
But sometimes, the back just breaks. A small thing becomes a clarifying moment. A realization that all past things were truly indicative of all future things, and all future things are likely represented by all past things. Often, it's realizing that the other person isn't trying, that it may suit them to become even worse, and there is no reason for it to get better.
Porky had reasons for dumping me, but the poem wasn't really the one.
I mention all of this in conjunction with the Election 2016 news of the day, which is that allegedly a number of Republicans have finally had enough. I'm seeing a lot of commentary talking about how the Republicans put up with so much odiousness from Donald Trump but the one thing they couldn't abide was his refusal to endorse Paul Ryan and John McCain. This narrative ignores a lot of the underlying dynamics. I don't know if this will be the straw that does break the elephants' back or not. I do know that this isn't the only straw, and we should be wary about judging the broken back by the last straw that fell upon it.
There is some natural bafflement over the length and girth of the straw here. I think Trump's refusal to do so is actually kind of justifiable. It's a primary and not a general election, and neither McCain nor Ryan endorsed Trump during his primary and Ryan made a point of doing so only reluctantly after he did win it. Further, just a couple of weeks ago he was talking about donating money to defeat John Kasich and Ted Cruz in the future, and he didn't even specify in the primary. Everything he does going forward is going to be debatably less bad than something he's done before. It would be folly for the GOP to wait until they finally have that one thing that is worse than everything else.
For formatting purposes, I'm not going to put this paragraph in bold but I almost want to so that I may underscore its importance, but none of this is a defense of the RNC or any particular individual. Dumping Trump now, if it happened (and I don't think it will), or pulling endorsements if that happens (it might, but even there I wouldn't bet on it), doesn't rectify much. I'll view any who bail now with less male malevolence than I view any who don't, but that's only comparative. I don't want to valorize them. I want them honestly humiliated. They deserve to be. (That may be the only thing both Trumpers and I agree on, albeit for different reasons.)
Beyond that, though, it's a matter of individual assessment. If Porky had never said word one about being unhappy in our relationship, then I would be able to attach great importance to The Poem. Had she always seemed unhappy and tentative (which she did), then I would assign less. With politicians and public personalities, we only know the public face they put on and will only find out later how disturbed they were or weren't about the events leading up to this week. Newt Gingrich has loved it, and Rudy Giuliani has gotten into it, so I'm not sure they can credibly scale back. Paul Ryan, on the other hand, has demonstrated a discomfort throughout the process. My inclination has been to say that Reince Priebus, for example, had been somewhat indifferent until now, though maybe that's an unfair characterization. Time will tell.
To be honest, I am myself at a bit of a loss as to why this could be the thing that tips it over. There's not even a cynical interpretation. There is nothing clear to me now that wasn't clear when he got the nomination to begin with. Except that now it's too late to deny him the nomination, even if they were so inclined. I think that the Khan story really got to some people. I also do think that the endorsement thing matters for a lot of the wrong reasons, but also because it touches on the one thing they had been using all along to rationalize their support: party loyalty. I find these explanations lacking, but I'm in my own head and not theirs.
My guess is that they're going to go the Sally route anyway. It would be one thing if it were a Corbyn situation where something will continue indefinitely without intervention. In this case, though, there is a stamped end-date, and what I can only assume is an incredible temptation to wait it out for lack of any better option. Trump happened in part due to a lack in leadership. There were a hundred earlier interventions that would have had an enormous impact. If you're too squeamish to cut off your finger that has gangrene, you're probably not going to cut off your arm.
About the Author
If you are interested in subscribing to new post notifications,
please enter your email address on this page.