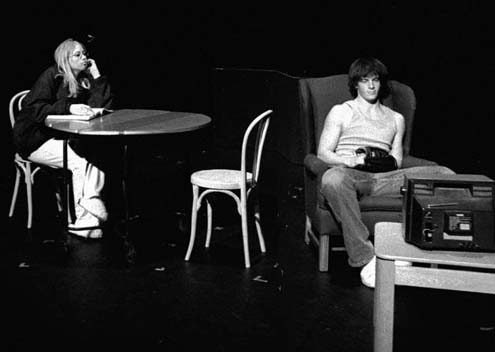 Clancy and I came from remarkably similar backgrounds. We're both the children of upper-middle class professionals with advanced degrees in the same field. School was considered important for both of us as we were coming up and stated expectations were that we would graduate college and eventually settle down in a professional career. We both went to church on Sunday and kept close ties with one side of our family but not so much the other. And perhaps most importantly, we were raised with similar values. I think it's because of these similarities that our differences stand out so starkly.
One of our big differences, both in the way that we were raised and in the way that we see the world, involves entertainment. I was raised on television. I watched obscene amounts of it. I wish I could have back the amount of time I spent watching an episode of Matlock for the 15th time. I wish I had spent more time writing and drawing and going out (as I got older). When Clancy and I have kids, I'm not going to let them watch as much television as I watched growing up. I didn't spend nearly as much time as my peers playing video games mostly because my parents wouldn't get me a Nintendo because my grades were so bad. But boy did I want one and for the longest time their refusal to budge on that issue was one of the biggest chips on my shoulder.
Clancy, on the other hand, got very little television growing up. She spent lots and lots of time reading. Television was something that her father mostly watched. Notably, when her father watched it, he was not amenable to being interrupted at all. As such, Clancy grew up with something of a negative view of television in part because of that alone. More broadly, though, she views television, comic books, and video games were considered by her to be suspect. She considered reading to be inherently superior to all of these things and to some extent time spent consuming any of the above was time wasted that would be better spent doing something better. Though I can agree that I wasted a lot of time watching television, where I primarily took issue with her was the notion that those things should in and of themselves be considered at best a "guilty pleasure".
Television in particular is something that I'm remarkably defensive about. Just as part of Clancy's animus towards TV can be traced back to the way that it sucked her father's attention away from her when she was young, I suppose some of my defensiveness can be chalked up to the fact that television made me who I am and to repudiate it completely is to repudiate who I am. It may not mean that I am something bad, but at the very least it means that I am something less than what I could be. On some level this is undoubtedly true just as 100,000 things I did when I was younger was ultimately non-productive, but I don't think that it's nearly as true as a lot of medical doctors and cultural critics say it is.
The place that most cultural critics point to are medical studies linking television to obesity among other things. While it's true that if you sit around and do nothing but watch television all day like I did, you'll likely get fat like I did, the cause-effect relationship is not as clear as the people that point to the studies suggest. Though I exclude my parents from this category, it is undeniably true that the same sorts of parents that don't monitor the TV habits of their young ones also don't monitor their caloric intake. Parents that are not around enough to keep tabs on kids' TV habits similarly don't have time to cook healthy meals and are more likely to rely on unhealthy alternatives. Parents that don't know how damaging excessive TV watching might be also don't fully appreciate how bad for them much of the food they eat really is.
The biggest problem I have with critics of television is that for the most part they consider television a thing. I think that further they often equate television with the least intellectually nutritious brand of it. Most of my personal problem with the television that I watched when I was younger actually had less to do with sheer volume and more to do with what I watched and how I watched the same things over and over again. Granted, there weren't the kinds of options then that there are now, so it's possible that if I hadn't rewatched Gilligan's Island there wouldn't have been anything for me to watch and that time would have been better doing just about anything else. Be that as it may, the same isn't entirely true today.
I could go on and on about how much I actually learned from television growing up and how it's influenced my life in positive ways. I could speculate that reading would have done the same only better, but that wouldn't be much more than speculation. I can also grant that the effort of reading makes it unlikely that you'll waste time reading crap whereas the comparative ease of television makes it easy to be indiscriminate, but I consider that a challenge to be overcome rather than an example of one's innate superiority over the other.
To go back to the beginning for a moment, I think that it's true that people watch too much television and in particular watch too much crap on television. I believe muchly that I did the same. What I reject is the notion that television is inherently bad or that cases when it isn't bad are some shocking exception to the rule. I also reject the notion that television is inherently inferior to reading in all but the most asymmetrical circumstances. I believe that television actually has some rock-hard advantages over reading just as reading has advantages over television. I also believe that video games, a "guilty pleasure" I rarely partake in, have advantages over both television and reading.
So what are these TV advantages? That is for another post…
About the Author
If you are interested in subscribing to new post notifications,
please enter your email address on this page.