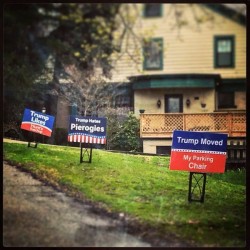 Matt Shapiro's piece on twitter journalism is worth a read. In the age of social media, you can find someone that will confirm just about any cardboard cut-out.
While Dan Scotto and I (and CK Macleod) resist it, Nate Silver reports that Trump's arguments on the (un)fairness of the GOP primary is winning.
I'm increasingly thinking that a lot of the Title IX rape-handling policies instituted by universities aren't going to survive court challenges.
Some people were up-in-arms about the guy who got into a lot of trouble for having the Trump flag/sign. But while I typically don't like such ordinances, isn't this a pretty clear-cut violation of a fair (if wrong-headed) ordinance?
Not that I am presently in the market, but this is kind of encouraging.
Emmett Rensin's article on the smug style of liberalism was received by all quarters about as you would expect it to be. BSDI, but not in equal measure.
In one sense, it's not clear that this is any different than "roughing it" by going camping. Wait… I'm not big on camping either. So really, it's just kind of weird.
Harriet Tubman, American badass.
Oh, thank goodness. For a second there, I'd thought that the Republican primary had spiraled out of control.
RIP, Friends of Abe.
Let us join in the unity of our disdain for Neil DeGrasse Tyson.
The average Millennial is not exactly what you would expect from reading the New York Times (or, for that matter, The Atlantic).
On the one hand, having tiers of citizenship may well make allowing more immigrants in easier. On the other hand, it doesn't seem like an enduring solution and is rife with problems. For whatever reason, I respond to this the same way some people respond to "regional visas" even though the arguments are kind of similar.
There is more encapsulated in this article about megacities than I think even the author may realize. It is, in essence, a latent confirmation of a vague paranoia about globalism, transnationalism, and those left behind.
As we all know, this is pretty much true. On the other hand, if we're being honest, never is a Republican suburb more emphatic in its support of the environment as when it has an environmental impact report on the precarious state of Argentinian Garden Snake where that Section 8 housing is slated to go.
About the Author
If you are interested in subscribing to new post notifications,
please enter your email address on this page.