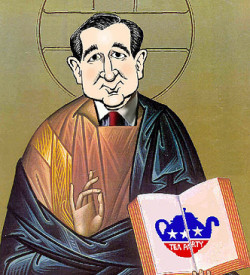 It's a two-man race! Or a three-man race! Or a four-man race! It depends on how you count it. There are four credible candidates remaining, three with a chance at winning the nomination, and two with a credible chance of winning the nomination. Or so it appears at the moment.
The immediate response after South Carolina was: Good for Trump, Goodish for Rubio, Bad for Cruz. My own account, almost immediately, was that it was very good for Trump, kinda bad for Rubio, and really bad for Cruz. The second-place tussle between Rubio and Cruz ended up being a sidestory. They effectively tied. The big news were the gaps between the two of them and everybody else. To the north of them was Trump, whose ten point victory was extactly what the anti-Trump faction(s) did not need. Below them was a 10+ point gap with everyone else, which was exactly what those two needed. Which gap was the bigger deal? I'm rather strongly inclined to believe the first, and after a couple days of trying on narratives, it appears that the consensus is with me.
I'm not yet convinced that Trump cannot be beaten, but for the first time I am putting his odds at greater than fifty percent (roughly 55%-25%-10%-10% for Trump-Rubio-Cruz-??). It would be even better had Cruz managed to beat Rubio with just a bit of daylight, but it was more than enough. The good news for Rubio is that as not-great as his night was, Jeb is out and Cruz's night was so bad that it ultimately redounds to his benefit as well as Trump's as he starts getting the nationwide establishment support he has long needed. Cruz's path to the nomination was already narrow, and he could run some rather bad publicity going into Super Tuesday.
Or maybe not, and that's Rubio's problem. Nevada is almost all downside and no upside for Rubio. It had been an afterthought, but I'm convinced that it is critically important for the two major candidates not named Trump. And it's important for Trump, too. But it offers Cruz an opportunity to reverse his fortunes just when he needs to. And that would, of course, be terrible news for Rubio whose main path to the nomination involves Cruz abandonment on Super Tuesday. It's Ground Game vs Fundamentals. The Fundamentals should favor Rubio between the two of them. He has ties to the state and ties to Mormonism. If not for the Trump Cloud, he would probably be winning that state. Cruz, on the other hand, has the legendary campaign apparatus and in a caucus that matters a great deal. Advantage: Cruz. And by extension, Trump. Trump can survive a loss, but he does need to win. The polling is so favorable to him right now it will open up questions if he doesn't (despite the fact that polling in Nevada is notoriously unreliable). But Trump is Trump, and momentum has not proven to be worth anything this primary.
This is going to be the last week that placement matters. On Super Tuesday, it will be all about delegates and states. I'm not sure how I'm going to handle it for the post but I do have some ideas. Here we go for this week:
Donald Trump
1st Place: This doesn't have to happen, but it'll be a big hit if he doesn't. And if it does, it'll cause a week of party uncertainty that will serve him very, very well.
2nd Place: He'll be okay. The good news about being the frontrunner is that you can afford stumbles. This would qualify as a stumble, though.
3rd Place: This would qualify as more than just a stumble, but nothing he can't rebound from. If the news feedback is bad, it could make it truly a three-person race. The press may shrug, though.
Ted Cruz
1st Place: Worst-case scenario for Rubio. This doesn't necessarily make him competitive, but it would help.
2nd Place: This would be a very good outcome, assuming that he beats Rubio. He can point to Rubio's connections with the state and institutional advantage and say "And I beat him anyway!" It'd be the first time he beats the expectations game.
3rd Place: Not a good outcome. If he keeps it close he will be okay. If not, the press (which is already hostile to him) will be mercilous and he has to start really worrying about Super Tuesday. Best case for him here is that the press spends more time talking about Rubio.
Marco Rubio
1st Place: This could make it a competitive two-person race, but probably not. It could, at least, break the fever of Trump's inevitability. It wouldn't necessarily even do that.
2nd Place: This keeps him going.
3rd Place: This makes it really hard for him to do what he needs to do to win the nomination.
About the Author
If you are interested in subscribing to new post notifications,
please enter your email address on this page.