Ted Cruz got a little bit of bad publicity for some campaign mail he sent out:
As Iowans prepare to head to the caucuses on Monday for the nation's first votes in the presidential primaries, the campaigns are pulling out all the stops. The mailer sent out by one Republican campaign, however, might end up backfiring.

Tom Hinkeldey, a resident of Alta, Iowa, tweeted a photo (which was later deleted because it included his personal address) on Friday evening of a mailer Sen. Ted Cruz's campaign sent addressed to his wife, Steffany. The mailer was a large card printed to look like a manila envelope on one side and was labeled in all capital letters, "ELECTION ALERT," "VOTER VIOLATION," "PUBLIC RECORD," and "FURTHER ACTION NEEDED."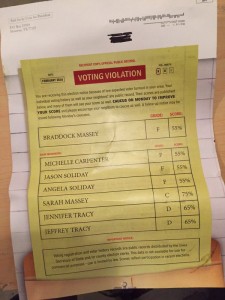 This rubbed some people the wrong way. Not the least of which was Hinkeldey, who claims to have been motivated by this to go out and vote for Rubio.
This sort of nudging and neighbor-shaming isn't new. Kolohe reports that he's gotten it from Democrats, though with a more encouraging tone. D Hawkins reports that MoveOn did it in 2012, and some have claimed that Obama himself did it.
Fans of Cruz cried foul and some theories were bandied about that it was a photoshopping job or a false flag attempt. I almost believed it, but in an indifferent sort of way. Basically, if it was a false flag then it was wrong (and illegal), but Cruz chose to be the kind of person that you look at this and think, "Yeah, that seems like something he would do."
Stages:
1. Denial
2. Photoshop
3. Blame rival campaign
4. Oh hey, great mailer! Just a gentle reminder of American Constitutional duty!

— D. Hawkins (@HawkinsUSA) January 30, 2016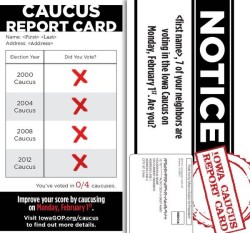 As it happens, the Cruz campaign not only admitted doing it, but in typical Cruz fashion the candidate loudly refused to apologize for his love of democracy and voting. Rubio didn't come out and condemn the mailers, but he said he was puzzled by the intent and the tone. His focus on those things may be significant, because, shortly thereafter, what might have been a point of differentiation between Cruz's rough manner and Rubio's more conciliatory manner collapsed with the revelation that the Rubio campaign appears to have sent out a very similar document. Similar, but not the same. The part that made the hair on the back of my neck stand up with Cruz was that it named names with an implicit threat of your name being before them. That's more than what MoveOn did, which was encourage. It's more than what Rubio did, by tut-tutting a bit. While I'm not entirely comfortable with the Rubio tack, the tone is rather different. It doesn't come across as officially as Cruz's does, and perhaps most importantly it doesn't name those names.
Erica Grieder, who seems to tentatively support Cruz, came to the defense of the mailers (including the naming of names):
1) They both seem weird and obnoxious to me. However, I have no frame of reference for what campaigns do in states with real elections.

— EricaGrieder (@EricaGrieder) January 31, 2016
2) I am aware that similarly weird-and-obnoxious tactics have proven effective in a variety of contexts.

— EricaGrieder (@EricaGrieder) January 31, 2016
3) For example, utilities have shamed customers over their power usage (including relative to their neighbors): https://t.co/5Vt8auaByq

— EricaGrieder (@EricaGrieder) January 31, 2016
4) Assigning Florida schools an A-F rating, ironically (I think), was one of Jeb Bush's signature, tho shamey, reforms as Florida governor

— EricaGrieder (@EricaGrieder) January 31, 2016
5) All of this is consistent with Cass Sunstein's "libertarian paternalism", which I think is gross but many of you support

— EricaGrieder (@EricaGrieder) January 31, 2016
6) I'm also reluctant to make assumptions about how Iowans see these mailers. They seem to have differential norms about voting.

— EricaGrieder (@EricaGrieder) January 31, 2016
In any event, the Cruz mailer has been condemned by the Secretary of State for looking like an official document. Perhaps more damning, though, it looks like they may have just made the numbers up.
About the Author
If you are interested in subscribing to new post notifications,
please enter your email address on this page.