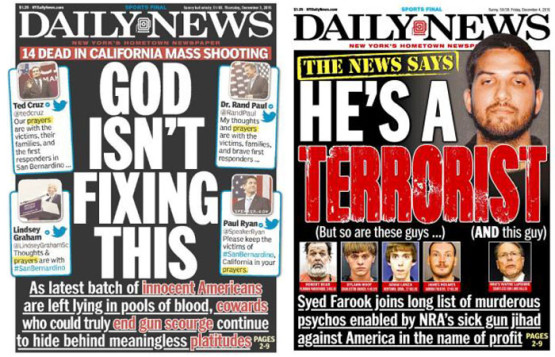 The "God Isn't Fixing This" headline barely raised an eyebrow for me because it was mostly the highest-profile example of targeting pro-gun politicians who offered thoughts and prayers.
Tagging the NRA head as a terrorist is kind of old hat. And coming off the heels of the God headline, I shrugged.
I suppose it's getting more and more difficult to get attention. Which is about the only explanation I can offer for why they would run a piece trying to equivocate between Syed Farook and one of his (hard right) victims.
Whether I link to it or not (you can click on it below), I suppose the fact that I wrote a post about the New York Daily News makes this a success?
#SanBernadino killers radical, #ISIS-loving monsters — but one of their victims was just as bigoted. @NYDailyNews https://t.co/QEQ55R1uDO

— linda stasi (@lindastasi) December 6, 2015
About the Author
If you are interested in subscribing to new post notifications,
please enter your email address on this page.