BYU head coach Bronco Mendenhall is headed to Virginia. A lot of people are surprised by this because they thought Mendenhall was a Cougar lifer, but I'm not. He'd been saying for a few years now how BYU had better get into a Power 5 Conference. People scratched their head wondering why Mendenhall thought he was in the position to tell the Power 5 conferences what to do, but I thought at the time that his comments were never directed at the P5 conferences but rather BYU officials. The "Or what?" is that he would leave. Which is what happened.
The Salt Lake Tribune has an article on Mendenhall's potential replacements, and the prospects are kind of underwhelming:
Only one certainly exists when it comes to compiling the list of coaches in the pool to replace Bronco Mendenhall, the BYU football coach who stunningly resigned on Friday afternoon to take the head position across the country at the University of Virginia.

It's a very short list.

Because the new coach at BYU will have to be a member in good standing of the church that owns and operates BYU, the Church of Jesus Christ of Latter-day Saints, it is as shallow a candidate pool for a Division I coaching job as any in the country.

Because BYU is a private institution not subject to open-records laws, Mendenhall's salary at BYU is not known. He signed a five-year contract with Virginia on Friday that will pay him $3.25 million annually.

Suffice it to say, the new BYU coach will make substantially less — probably in the $1 million range.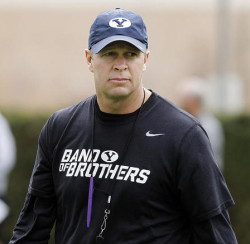 If that's the pay range, it's going to make a difficult search even moreso. The only really good candidate is Ken Niumatalolo of Navy. Niumatalolo was mentioned for some reasonably big openings this year (Iowa State most prominently). He either likes Navy or is was passed over, but if he likes Navy then leaving is going to need to be worth his while. He's paid $1.7m a year at Navy. And even then, he might be more interested in a real Power 5 job, and Navy is probably a better platform from which to make that move. I could be wrong, depending on his level of devoutness, but he's the only allstar choice.
The Mormon limitation may be understandable, but is pretty constricting. The first two names that came to my mind don't seem to apply. The first is Washington State's Mike Leach, who is Mormon and allegedly looking for greener pastures. But from what I've been able to gather, he's… lost his temple recommend. The other, Steve Kragthorpe, is a former head coach at Tulsa and Louisville whose father was a BYU coach (and Kragthorpe is a Mormon name). Turns out, the "health problems" I remember him having that lead to him backing away from a coordinator job was Parkinsons. And he apparently left the church at some point anyway.
So now what? In addition to the Mormon limitation, BYU is a tricky job and I am pretty sure that's a big part of why Mendenhall left. Going independent in football was a good move in some respects. They got a good TV deal worth good money and rebroadcast rights. They aren't stuck in a conference with San Jose State and midnight games in Hawaii. But from a coach's perspective, it has its problems.
The biggest is that it puts the team in a box. If Navy goes undefeated, they almost get invited to a New Years Six bowl game. If BYU goes undefeated, they might get that invite but it's far from clear. There is no provision for independents. They could get an at-large bid, but only if their schedule warrants it. Unfortunately, scheduling as an independent is tough and BYU has had pretty limited success in getting games against marquee opponents. They're doing the best they can, but after the first few weeks most programs are playing conference games and they have to go out of their way to schedule BYU. It's so tough that even Notre Dame had to enter a scheduling agreement with their non-FB conference (BYU's non-FB conference, the West Coast Conference, doesn't sponsor football). By and large, their schedule is more analogous to that of an ambitious G5 program (like Boise State) than that of a power player.
Added to that, being without a conference means they have to make their own bowl arrangements. Which means that on any given year, as soon as they are bowl eligible they know where they are playing around Christmas. There are no conference or division races to look forward to. There are no conference championship games to look forward to. Win six, go to a mid-tier bowl, year in and year out. That's their life now.
I can understand why that would dampen the enthusiasm of a coach to what is otherwise a very attractive program that draws crowds of 60,000 a game, has great television exposure, and with the exception of their conference and schedule situation are a power program. But that conference and schedule situation…
Given the dearth of Mormon candidates, maybe the impact this time around is limited. They need to start evaluating their options, though, and that means more than waiting for the P5 conference invite they are due but are not apparently going to be recieving any time soon. They left the Mountain West for a couple of reasons, one of which was the conference's TV contract. The MWC's new TV contract is better, and given that both the MWC and BYU contracts are handled by ESPN there may be some wiggle room. The second is the conference's loss of prestige after the other major programs (TCU and Utah) left or were leaving. There is no easy solution to that one.
They could, at least, attempt to bolster their schedule by entering into a scheduling arrangement with one of the top two G5 conferences, the Mountain West Conference and the American Athletic Conference. The upper crest of each would probably be happy to play home-and-homes with BYU and their conference offices would probably be glad to accommodate. They should even be able to get in on their bowl packages. The Mountain West Conference is right in their regional blueprint, but there may be bad blood there (there certainly was when they left, but we may be at the bygones stage) that they don't have with the American Athletic Conference. Either way, it should be something to consider.
It could all be moot in a few years. If the Big 12 gets raided again, BYU would be a candidate (though from what I've heard, the conference is more likely to expand further eastward). The American Athletic Conference could try another westward push (more on this later). The Pac-12 could get raided in a western push by the Big Ten and need to restock. But none of these are things to be relied upon. None seem especially likely, and only the first is even on the radar. But if their next coach is successful, and they want to keep him, they may have to donate almost all of the extra proceeds from their TV contract to make it happen.
About the Author
If you are interested in subscribing to new post notifications,
please enter your email address on this page.