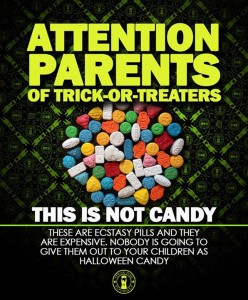 When I was growing up, it was pretty much conventional wisdom that you had to worry about people giving out (chemically of physically) spiked candy on Halloween. It wasn't thought to be common or anything, but parents started doing the whole "No accepting trick or treat candy from strangers" thing as I was going through.
These are the things you only find out much later are almost entirely mythical. Or absolutely, entirely so.
But everything persists as if this isn't the case. As if this is something that we genuinely need to be worried about. It speaks to something more than mere gullibility. It speaks to what I can only see as an investment in the notion that the world is a sick place. The need for affirmation that all of our fears are justified. That those who are afraid are not so much afraid as aware and those saying otherwise are at best naive, and at worst indifferent to evil.
And so it happened again this year. A razorblade in Auburn, Massachusetts, that turned out to be a criminal prank. Then some needles in Pennsylvania. I briefly got taken in by the second one, in large part because there were (allegedly) multiple reports. My thinking was not so much that some sicko was trying to hurt children, but that some parent might actually put needs in candy as a warning to people to be way of candy. Because that's the sort of investment I'm talking about. A sick place about being a sick place, or something. You know, like cops stealing stuff from people's cars to teach them a lesson about securing their cars.
Turns out, I was partially right:
Then, after detectives spoke with Ledrew, "They discovered upon questioning the male that he indeed made up the story."

Minossse says Ledrew actually put the needles in himself, and the reason he gives them is that he was trying to teach his kids a lesson to be careful with their candy.

Ledrew was arrested and charged with making a false police report, Minosse says his lesson continues in court at a future date.
Meanwhile, at least four have died from automobile accidents while trick-or-treating.
But keep your eyes on that candy, parents. There are a lot of sickos out there.
About the Author
If you are interested in subscribing to new post notifications,
please enter your email address on this page.