Tag Archives: Wolf & Dessauer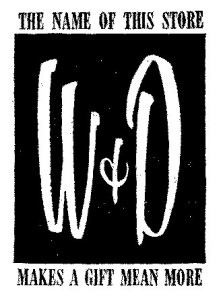 It began with Wolf and Dessauer. In the years before shopping malls and chain retail stores, Wolf and Dessauer was where Fort Wayne shopped. A purely local department store, it made its name as a place that was not just for shopping, but twas a social experience, with high levels of customer service, lounging rooms for tired shoppers, and access to telephones for people who who did not yet have one at home.
And Christmas was (so I hear; it was before my time) a magical time at W&D. They were famous for their magic windows, which some say were the equal of Macy's.
In 1937 W&D hung a 25 foot wreath containing a reported 40,000 lights from the side of the building. Then in 1940 they constructed a 51 yard long display of Santa and his reindeer . Made of wood and containing (depending on which of the many unverified sources one believes) between 24,000 and 40,000 lights. It took workers several weeks to hang it, using blocks and tackles to haul the pieces manually up the side of the building.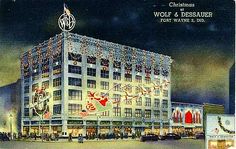 The display was only up for two years before WWII intervened, with demands for reductions in energy usage and night-time blackout requirements. (Fort Wayne was, and is, an important industrial city, and apparently officials were worried the Germans might sneak across the Atlantic and 700 miles of U.S. territory without being detected to bomb armament factories.) Shut down for three years, the display returned in 1945, a joyous symbol of the end of war.
Santa and the wreath were displayed for 14 years, then put into storage when Wolf and Dessauer moved to a new building, and was not put up again the next Christmas.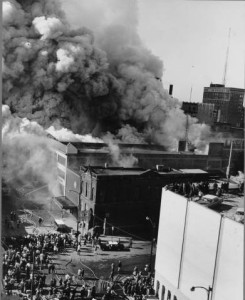 In 1962 the old building was destroyed in one of the largest fires in Fort Wayne history. As firefighters struggled against large crowds and freezing weather that froze the spray from their firehoses, five buildings were damaged or destroyed, and at least one fireman lost his life.
In 1966 Wolf and Dessauer sold their business to City Stores, a Delaware-based retail store holding company, and in 1969 City Stores sold W&D to Indianapolis-based department store chain L.S. Ayres. (See the subsequent history of Ayres below.*) L.S. Ayres had a store at the newly opened Glenbrook mall, then on the edge of the city, and in the early 1970s closed the downtown store.
My mother says she used to take my siblings and me to W&D to see the magic windows and sit on Santa's lap every year before the store closed. Unfortunately I have only the very faintest memories of that, wholly without detail, and perhaps they're really only memories of being told that we did that. And while my oldest brother and sister might have seen the Santa display as infants, it was already several years gone before I was born. But for older people, the Wolf and Dessauer Santa and wreath were among their most nostalgic memories.
For 20 years, longer than the original Santa had flown across the W&D store, and only a few years less than the wreath had hung there, the displays were lost. Or perhaps their location was known all along, but nobody was interested in reviving them. Or more likely, perhaps, the owners of W&D decided not to redisplay them after the move, and then as the company was sold and re-sold and old-timers of the company left the knowledge of the displays' location was not passed on, and the new owners, managers actually, no longer locals but corporate types in distant cities, knew nothing of them and might not have cared if they did. They were running regional and national firms, not a local one.
Whatever the real story, in the spring of 1979 the displays were serendipitously discovered in a warehouse. That Christmas, two restored reindeer were displayed on the side of a downtown parking garage. In 1980, the whole display was lit for the first time since 1959, and has been displayed every year since. 2015 makes the 36th year of continuous display in its second incarnation, twice as long as its original display, and closing in on as many years as it was first displayed and then lost combined.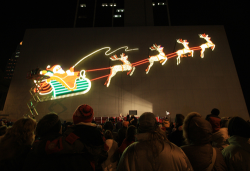 Today the historic Embassy Theater–a grand movie palace from the 1920s, now operated by a non-profit foundation–creates magic windows. Probably never again can we recapture the experience of a Wolf and Dessauer Christmas, but it's still a wondrous experience to take my kids to see them. It's a part of Fort Wayne that is special–beautiful, dazzling, historical, and evocative of the connections between past and present, all the more precious because they were once lost.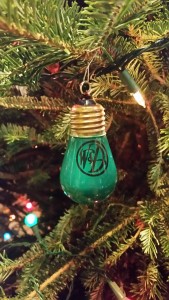 And today many of us have a bit of this history decorating our own homes at Christmas. In the mid 2,000s the tens of thousands of 11 watt bulbs were replaced with LEDs to save in energy costs (although three times the cost of the older bulbs, the LEDs were expected to pay for themselves in just two years). The old bulbs were given to charities to sell as Christmas ornaments. My Christmas gift from my mom that year was one of the old bulbs. It has hung on my Christmas tree every year since, and while my kids do the majority of the tree decorating (one of our annual gifts to them is an ornament each, and it's great to watch them remember and reconnect with them each year), the bulb is one of the few ornaments I personally hang.
_____________________________
*Ayres was purchased by Associated Dry Goods of New York City in 1972, which then merged Ayres with the Cincinnati-based Pogues, keeping the Ayres name. In 1986 the May Department Store Company acquired Associated Dry Goods, and in 1987 Associated Dry Goods was renamed L.S. Ayres and Company. Ayres was then merged with St. Louis-based Famous-Barr (also owned by May) in 1991. In 2005, Federated Department Stores, which had previously purchased Macy's, purchased the May company and merged Ayres into its Macy's division, apparently ending the Ayres retail name.