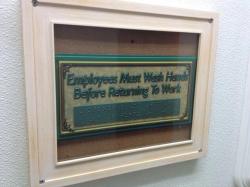 Conor Williams writes that liberal opposition to inequality ends where their schools begin.
If the NFL is dissatisfied with the training that quarterbacks are receiving in college, there is a rather straightforward solution to this.
Sometimes, TV shows have to either temporarily replace cast members or cute things up.
I had a dream about a particular ex-girlfriend after reading this Onion article.
Russell Saunders reports that science is getting closer to figuring out why some people just don't die from smoking.
According to a new-ish Rand study, food deserts are not the cause of the obesity epidemic. Relatedly, poor people don't eat more fast food than the rest of us.
This leaves me torn. On the one hand, aggressive copyright enforcement. On the other hand, memes. How do you pick a side in that one?
TNR explains how patent law is jacking up the costs of car repairs.
The state of Georgia cannot copyright its own laws.
The Microsoft Zune is no longer in production, and the subscription services are no longer available. So if you have one… now what?
Sunny Hundal argues that excessive British secularism is isolating British Muslims and feeding Daesh.
Whether you get formally married or not, the decision to long-haul it really ought to be made actively and not passively.
Shannon Chamberlain lost some serious weight, but don't compliment her on it.
If we want to help minorities, maybe we should buy them a car.
The combination of automatic birthright citizenship and the requirements of expatriates to pay taxes makes for a troubling combination for young Americans born abroad.
About the Author
If you are interested in subscribing to new post notifications,
please enter your email address on this page.