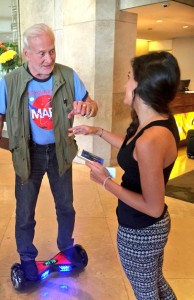 Astronaut Edgar Mitchell believes that nuclear war was averted by peace-loving aliens. (Also, Buzz Aldrin, nailing it.)
Sarah Kliff of Vox watched all of the Planned Parenthood videos (up through 8/13) and put together a surprisingly fair report. I hope she does so again after they were all released.
Chris Cuomo put his finger on the real problem with the ISIS/sex slavery story… it feeds negative stereotypes.
The EPA holds polluters accountable, but who holds the EPA accountable?
I tend to assume those politicians that talk about keeping Chick-Fil-E and such out of their town are chest-pounding for the cameras. Turns out, looks like they mean it.
I will absolutely watch Dante's Devine Comedy film(s), but I will absolutely go into it with low expectations.
"Unless the doctor's pay is somehow linked to performance, there is a good chance that the quality of care in the public sector would be worse than in the private sector."
This makes sense: Vox reports that during recessions, college students pick money-making majors.
A look at data and elections, from Texas.
If you're worried about political self-segregation online, it's apparently nothing compared to real life.
An all-important question has been answered: On Friends, how much does Joey owe Chandler.
Well, I suppose bribery may indeed be an inelastic good.
Tina Rosenberg looks at the kidney market in Iran.
Razib Khan looks at the history of the British and the Caste System of India.
Meet Moore's Law's evil twin.
About the Author
If you are interested in subscribing to new post notifications,
please enter your email address on this page.