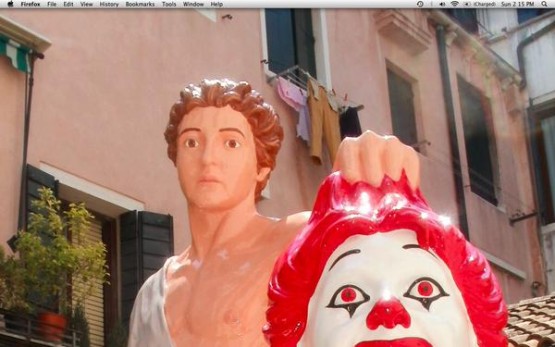 Sonny Bunch blames the rise of Donald Trump on pop culture and professional wrestling.
In Ferguson, some Oath Keepers decided to arm black protesters in solidarity.
Vice asks the very Vicey question: What are things going to be like for Jared Fogle behind bars?
When more than half of the stadium was empty, I thought that might register with media depiction of the event, but the media keeps letting him pretend the stadium was full.
Contrary to the claims of Trump and other lefty weirdos, Jeb Bush's PAC did not actually photoshop him on to a black guy, and it was kind of a weird theory to begin with.
In the tenth anniversary of Katrina, Owen Courreges wishes that people would stop calling New Orleans better after the disaster.
I'm on board with re-evaluating the Confederate Flag and other things, but this is silly.
A bear poking its head through a doggie door? I'm going with scary.
A millionaire in the UK is fined after recycling gravestones for his patio.
South Carolina passed some rigid laws to prevent pesky calls, but a recent court decision has placed it in jeopardy.
George Orwell recently turned 110, and a Dutch Artist celebrated by putting party hats in surveillance cameras.
Even if they've made the long transition from scourge to the cute mascot of anti-global warming efforts, maybe you should hunt polar bears because polar bears will hunt you.
A couple that was getting it on fell in a moat and died.
You have maybe seen the videos of the bears playing in the pool. Uncle Steve makes a good point, which is that while it may be an exotic novelty to most, it's probably a common plague to them.
About the Author
If you are interested in subscribing to new post notifications,
please enter your email address on this page.