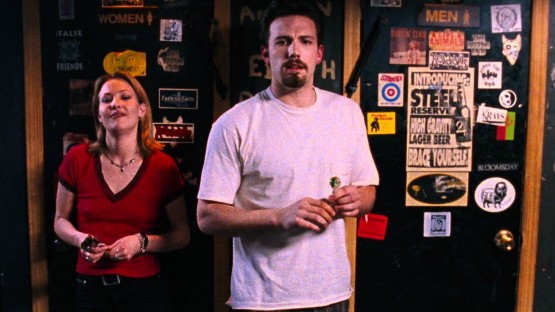 Contexts some really interesting data on sexuality and sexual fluidity of women. Here is one of the more interesting sections:
How Common Is It for Lesbians to Have Sex with Men?

As the graph below (drawing from Tables 1 and 2) shows, depending on the measure used, between two-thirds and four-fifths of lesbians have had sex with a man sometime in their lives. Eighty one percent report having had either oral sex, vaginal intercourse, or anal sex with a man, while 67% report having had a male intercourse partner sometime in their life. By either measure, the proportion of lesbians who have ever had sex with a man is drastically larger that the proportion of heterosexual women who have ever had sex with a woman.

However, if, we restrict our focus to the year before the survey, we get a very different picture. Only 22% of women who identify as lesbian have had sex with a man last year. If these are all women whose behavior is inconsistent with their identity, then it seems a sizable share—over a fifth; it is very different than the under 2% of heterosexual women who had sex with a woman in the last year. However, it is also possible that some sizable share of the 22% may be cases where women changed their identity and behavior in the last year, but identity was consistent with behavior at most all times. The data don't allow us to tell which it is.
This is less than entirely surprising. Straight is the social default, both due to raw numbers and social norms. It makes a lot of sense that most lesbians would at least start off with guys before determining that it isn't right for them. Even the 22% makes sense, and not just for people whose sexuality was determined in the past year. Given the low numbers of practicing homosexuals and practicing bisexuals, I would imagine that their "dry spells" can often be longer, and more lonely, and that while sex with a man may be unsatisfying it's better than nothing. And while finding another lesbian may be difficult for those who live outside liberal hubs and large cities, finding a guy willing to have sex is probably less difficult.
The stats for bisexuals is also interesting, though less so to regular Hit Coffee readers who remember my rants about Goth-Pagan-Bisexuals. Essentially, bisexual women are considerably more likely to have sex with men than women. This makes sense in the context of the above – men being more available, generally speaking – as well as the GPB phenomenon. In a large number of social circles, claiming to be bisexual is a relatively costless affair. Lesbians, on the other hand, are at least ostensibly signalling a lack of interest in sex not only with half of the population, but the half of the population that is more likely to be available and interested.
So, there's nothing earth-shattering here, but it's interesting nonetheless. I would be interested in seeing the results for men.
About the Author
If you are interested in subscribing to new post notifications,
please enter your email address on this page.