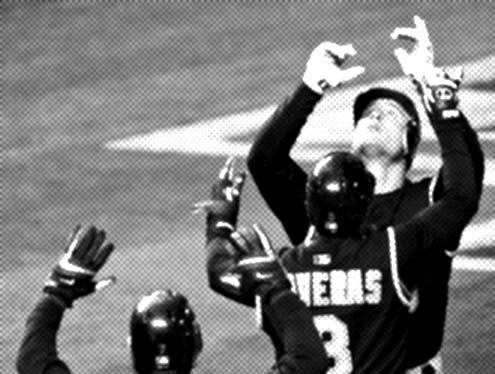 Billy Brand was one home run away from beating the record, though he'd come into a bit of a slump. It was not expected that he would break the record in Colosse facing off against our hometown Colosse Hurricanes, though it was of course always possible. I didn't go to the game for the possibility.
My friend and former roommate Hubert had Canes season tickets, but he had a prior engagement that he couldn't get out of that night. He'd asked several of his baseball friends if they wanted to go, but none of them were free, either. He was dumbfounded that he wasn't able to find anyone to go to what could be a historic event, but it was looking that way. Then he found out that local musician Rick Gardland was going to be doing a set after the show. When we lived together, I'd played quite a bit of Garland's music (to his dismay) and he gave me a call.
Evangeline and I had just broken up. Again. The truth is that I didn't want to go anywhere or do anything. That, of course, made it all the more important that I did go out. The less I socialized in situations like that, the worse the situations tended to get. I invited Dad and we headed on out to Mello Yello Field that night. I figured, if nothing else, seeing history-in-action would give Eva and I something to talk wherein I could indicate that I was getting on with my life.
I wasn't a very good companion for Dad. I was obviously distracted and I took regular cigarette breaks. Since he rigorously disapproved of my smoking, that only made things a bit more awkward whenever I'd make an excuse to get out. Unfortunately, the nearest smoking area was on a separate floor and it was a bit walk back and forth, so we both knew I wasn't taking a trip to the nearest restroom. I timed by breaks in between innings and around Billy Brand's trips to the plate. By the sixth inning, I'd only been working my way around Brand striking out and hitting two infield outs. Brand's last out was in the sixth inning, so I decided that during the 7th Inning Stretch I'd make my way to the smoker's circle.
Unfortunately, at some point before I got out there the cigarette lighter had fallen out of my pocket, so when I got out there I didn't have a lighter. I asked around to see if I could borrow a light, but the weirdest thing happened: no one would bum a light. Smokers are generally generous with bumming cigarettes and failure to bump a light was a breach of the Smoker's Code. After the first five rejections I was considering just heading back in, but I gave it one more shot. She lit me up and I smoked and pondered my ongoing problems with Eva.
Meanwhile, on the field, Brand's team started batting again and they were on a roll. Double, single, single, single, first pitch hits all. The next thing I knew the crowd was erupting in applause. Billy Brand had just broken the home run record with a whopping three-run shot. Despite all of my attempts to time my trip, in a freak inning they'd made their way through the entire line-up in just a few minutes. I'd never seen anything like it (and since I didn't see it, I still haven't). History was in the making while I was standing there thinking about Evangeline.
When I got back to my seat, Dad asked if I'd seen it. I lied and told him that I had and that was why it took so long. He held up the lighter I'd dropped and said he'd figured it was because I'd had trouble lighting my cigarette banging together a couple of rocks.
The Garland show was a bust. After a couple of songs the PA system gave out. We waited for about twenty minutes while they tried to fix it, but we gave up and a while later they did, too.
When talking to sports fans, I mention that I was at the game where Brand broke the record. I tend to leave out the part where I missed it because I was out on the smoker's ledge, feeling sorry for myself.
About the Author
If you are interested in subscribing to new post notifications,
please enter your email address on this page.