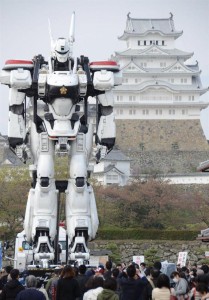 What to do about the liberal bias in social psychology? Piercarlo Valdesolo argues that neutrality of perspective, and not equality of perspective, should win out.
A look at the cisterns of San Francisco, and a cave in Georgia (the other Georgia) so big it has its own Subway.
Gundam/Voltron is happening!
Martin Robbins is worried about sexism and racism on future Martian colonies.
Snake People are having fewer sexual partners than Generation Xers. Good for them, I say.
Peter Schellhase discusses the conservative vision of Hayao Miyazaki.
Nancy Cook writes about rural planning in the ag sector.
The oil slump has hit the petroleum engineering community hard. My Man in Texas says that this is a mistake, because they're going to be needed.
Scott Sumner gives us an update on the Sunbelt.
It's good that you went to college and all, and hey it's great that you went to an Ivy League school, but maybe you need some vocational training.
About the Author
If you are interested in subscribing to new post notifications,
please enter your email address on this page.