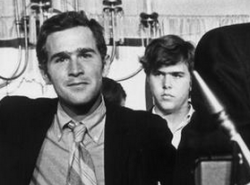 As it happens, if you charge users for their water, they use less.
Australian researchers may have a breakthrough on Alzheimer's.
Puerto Rico is losing its middle class, but gaining millionaires.
I'm not uniformly opposed to term limits, but the ones suggested here are too short. I'd be more open to 20 years in either house or 30 years total. (Senators would be able to complete their terms.)
Freddie deBoer looks at Purdue University's newest pretty (and very empty) building, and contrasts it with important existing facilities, putting in a good word for cost-conscious alternatives. I'm personally a little bummed because I found out they're tearing down the dorm I lived in for four years, and replacing it with more luxurious accommodations. They won't be empty, at least.
To combat infanticide, China set up "safe havens" for abandonment (like we do with fire stations). Unfortunately, so many babies are being abandoned that they're shutting them down.
Are investors getting in the way of traditional home-buyers?
I'm a tad skeptical of the plan of this DC developer to build "shared space housing." You can think of it like dorms or retirement communities, but those places are narrowly selecting.
I… don't even know how to feel about this: How would you like a perfume that smells like a dead loved one?
There's water in that there valley, and oil in them there hills, in Antarctica.
Men and boys with older sisters are less competitive. I've long hoped that we have two kids with an older sister and a younger brother. It appears I am wise!
Michael Siegel points to an encouraging study on ecigarettes. So far the data has been surprising (to me) less encouraging than I had hoped, leaving me a bit dumbfounded. It worked for me and I want it to work for everyone. The public health community is doing what it can to make sure that it will help as few people as possible.
So what's the deal with the medieval art with knights fighting snails? sdfsdf
The bad news is that judges, like the rest of us, are susceptible to motivated reasoning. The good news – which unlike the bad actually is news – is that they are less so.
About the Author
If you are interested in subscribing to new post notifications,
please enter your email address on this page.