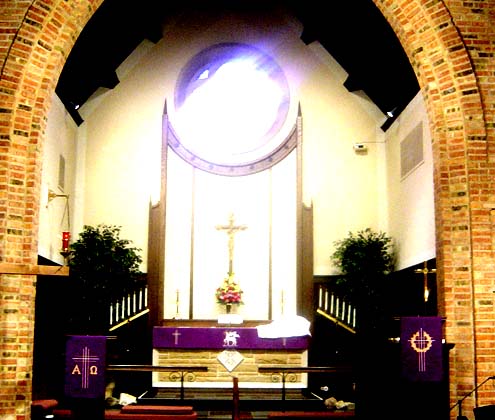 My wife Clancy and I had pretty similar upbringings. We were both raised in somewhat conservative families, both taught that school was a priority and that we'd be going to college one day, both were raised with a hot-tempered and an even-tempered parent, and were expected to attend church weekly when we were young. But in that last similarity is a pretty significant difference.
Clancy was raised in Bavariana, the eastern portion of our home state of Delosa. Bavariana has a notable and distinct German Catholic population. It's one of the most Catholic-friendly regions in the south. When you cross the county line from Rockford to Mueller, suddenly all of the town names are German and all the churches are Catholic. She was raised Catholic and was surrounded by people raised Catholic.
I was raised Episcopalian in the protest remainder of Delosa. Central and western Delosa have a hundred thousand denominations and while there is a strong thread of evangelical protestantism, it's presence in the upper middle class community where I grew up, with families that moved there from all across the country, it wasn't all that strong.
One of the earliest disagreements Clancy and I had involved the nature of organized religion. My view is on the whole pretty positive, hers not so much. I view them as a building block upon which society is formed. I see religion, even when I disagree with them, as an ultimate positive for society. Clancy sees them with considerably more suspicion.
It's no accident that she was raised Catholic and I was raised Episcopalian. We were raised in churches that are very similar in form but quite different in function. The way we see church is inherently influenced by our experiences in the ones we belonged to. I don't see organized religion as inherently restrictive because I attend one of the least restrictive denominations. She sees them as more authoritarian because she belonged to a church that was more authoritarian
I've noticed a pattern with my friends. Those raised in more devout families or in more demanding denominations or religions are the most and the least religious people that I know. Meanwhile, those that were raised where the household religion was non-existent, less prevalent, one more of ceremony and social brotherhood rather than gospel and doctrine are more likely to be non-practicing (or sporadically practicing) believers or quiet, respectful disbelievers.
The most angry anti-religionists I can name off the top of my head are those in Deseret. They either felt the pain of leaving the LDS church or of being surrounded by the influence of a church that they don't belong to. Deseret was also home to some of the most devout believers I've ever met. Outside of Deseret, I think of Catholic Clancy and my friend Kyle who was raised in the Church of Christ.
Inversely I think of most of my friends from my high school and college years. My friend Dave was not raised to be religious (as far as I know) and he's not a very religious person. At the same time, he demonstrates a degree of respect for religious as it pertains to moral and spiritual guidance, provided that it stays out of the way of science. A lot of people I know that grew up in ostensibly non-religious (to be differentiated from "anti-religious") house have that kind of attitude.
An example closer to me is Clint. Clint was raised a staid Presbyterian and was, as long as I'd known him, something of a believer but not in the energetic sense. He displayed no particularly animus towards organized religion… until he went off to Southern Cross University in Gilead for college. Cross was a very religious institution and by the time he got out he was almost an atheist. The further he got from Gilead, the less scary religion became to him and he's actually started about going to church again.
For those of us raised in more accepting environments, church just takes on a new meaning. Church was once and I'm sure will be a place for me to find spiritual solace. Whereas Clancy's experiences with organized religion involve a lot of it telling its perishoners what to do and how to believe, my mental associations don't involve that at all. Less a pronouncement and more an exploration. It's a place that welcomes me even if I don't quite believe everything that they tell me.
I'm not going to say that my church's way of approaching faith is right and others are wrong, though of course I see it that way if you can get enough scotch in me to get me to admit as much. But rather the way that I see church, the role I believe it provides as a social institution and facilitator of spiritual reflection rather than an institution meant to control, is very much rooted in the experiences I've had with it. The good news is that it is amenable to people like me that would have a devil of a time trying to acclamate ourselves with a more rigid theology. The bad news is that it makes it so much easier to stray from the flock. It makes the transition out that it's become difficult for the Episcopal Church to hold on to its adherents.
On the flipside, other churches make it much more difficult to leave. I've had conversations with disgruntled Catholics and have praised the virtues of the Episcopal Church and I hit a wall. There's a certain "It's Catholic or it's nothing" vibe. Sure, some liberal Catholics do become Episcopalians and some conservatives become Orthodox, but almost all of the disgruntled Catholics are I know are, by definition, Catholic, and almost all of the former Catholics I know stopped attending church altogether. While the Episcopal Church may fit the definition of what they say they want (a more theologically flexible Catholic Church) it simply doesn't fit their idea of what a church is supposed to do.
They see the church's function as being what the Catholic Church was to them, similar to how I see the church's function as being what the Episcopal Church was to me.
About the Author
If you are interested in subscribing to new post notifications,
please enter your email address on this page.