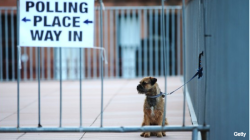 The "cadillac tax" was billed by Jonathan Gruber as a backdoor to getting employers out of healthcare. Some House Democrats want to quash it.
President Obama is touting community colleges. That's not the particularly cool part, though. The cool part is that he's doing it in South Dakota. Thank you, Mr. President.
Some have grumbled at the obligation we have incurred by providing defense for the Marshall Islands, but Greenpeace says they've paid a price for it. And for those worried about the Maersk Tigris, while the administration and the Pentagon punted, it was released, and we've taken to escorting ships.
Norway is reducing the incentives to buy electric cars, and in response to Charlie Hebdo retiring it's blasphemy law.
PRI shares the story of an American who saved 250,000 people during the Armenian genocide.
Putin and Medvedev have been comparing their annexation of Crimea to the reunification of Germany, but some historians take issue with that.
Maybe it's just me, but if you're somebody that has (a) stolen a bike and (b) disemboweled a Portland man, you are a "Disemboweler who stole a bike" rather than a "Bike thief to disemboweled a Portland man."
One of Montana's most wanted is caught when he "likes" his most wanted poster on Facebook.
A woman's daughter dates her mother to kiss a random, good-looking stranger. Which she does, and then tries to use social media to catch his attention, and caught his wife's instead.
An aide to California Attorney General Kamala Harris is evidently part of a secret society dating back to… well there's some confusion over that.
Montana joins New Mexico in clipping the wings of asset forfeiture.
An employee at a Waffle House in Georgia was caught on camera pleasuring himself. The only thing missing from this perfect story are the words "… in celebration of his favored SEC team winning a championship."
Jesse Walker wrote an opinion piece on Jade Helm 15 for the LA Times, which a publication in the UAE reproduced… except they cut off the second half, leaving it on a pretty ominous note.
Liberland, mentioned last week, had a good run, but that run is at an end as the nation was invaded and its president arrested by Croatia. Here's an interview.
A flight from Florida to Portland was diverted to Salt Lake City after a tantrum by a teenager with autism who wanted/needed hot food.
About the Author
If you are interested in subscribing to new post notifications,
please enter your email address on this page.