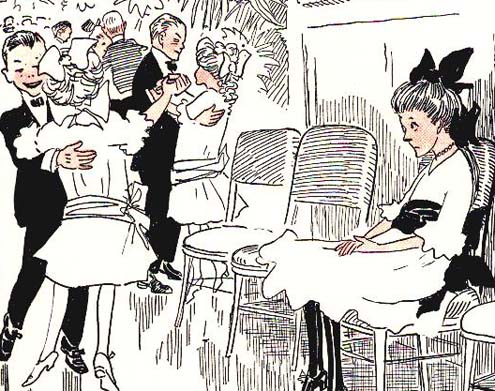 At the anime convention that I recently attended, I ran into an unexpected friendly face. Marianne Silbet and I went to the same school from about the seventh grade onward. She moved in from parts unknown. Marianne and I were never friends. The only real memory I have of interacting with her was when she went to the prom with Scott Sanders and the two of them plus Julie and I left the prom together and walked on the beach together.
The thing I remember most about Marianne, though, was that she was very, very unpopular in junior high school and I never remember her having very many friends at all. Marianne was sweet as sugar cane, cute if not hot, slender, acne-free, and at least after those awful junior high school years a smiley and pleasant person to be around. For some reason, though, she really, really got it bad in junior high school. And for prom the date she mustered up was Scott Sanders, one of the friends I was most ready to get rid of when I graduated from high school. The thing that I noticed then but struck me now was how completely, totally unfair that was.
I've mentioned before that I slummed around amongst the socially marginalized class of high school. I got to know a lot of them quite well. The guys, anyway. Some of them were a lot of fun to be around and I light up when I think about them. Some, like Scott, I would talk to only if there were absolutely no one else around and maybe not even then. But whether I personally liked them or not, I could easy tell you why they were unpopular. They were socially inept, they were fat, they were awkward, they were anti-social, they were smart-asses they were consumed with bitterness. The reasons go on and on.
I'm not saying that the criteria that found them lacking was a good one. It was stupid and superficial I am so glad to be away from it now. But at least I understood it. I knew what was hurting me and I could try to change it or I could accept the consequences of it. If they were to ask me and I were feeling particularly honest I could have told them ways that they could have improved themselves. It was warped and twisted, but it had its own little logic that if one could step away from themselves just for a little bit they could decipher.
But thinking about Marianne brings to light another observation: I have no idea at all whatsoever criteria, if any, the girls had for sorting themselves out socially. I have no idea what precisely it was that made Marianne so reviled and she's not the only one. I knew a girl in elementary school named Louise that was dreadfully unpopular. As far as I could tell I was the only nice person to her. Then in the fifth grade her family moved and she went to another elementary school. Both our grade schools fed into the same junior high and apparently at the other grade school she had made quite the splash and when we ran into each other in junior high she had a lot of friends. Even though I was the only one nice to her in grade school, she was unusually cruel to me in junior high perhaps because she did not recognize me or perhaps because I was a throwback to an unfortunate time in her life. Other than the sudden cruelty, though, there was no big difference in her behavior to warrant the reversal of fortunes and I don't think cruelty alone did it (there were a lot of cruel girls that were very unpopular).
A little closer to home, I understand why my wife was unpopular in K-12. I love her but she is stubborn and has unusual tastes and is not socially gifted. But the ferocity with which other kids went after her completely baffles me. I get angry just thinking about the things that she's told me and there are things that were so bad, so much worse, that she refuses to tell me. When it comes to the guys that got it really, really bad in K-8 I understand why even if I think that the reason is dumb. But when it comes to Clancy, Louise, and Marianne I am completely and utterly baffled at the degree of derision they got.
My inclination is to say that the female social structure in schools is random and illogical, but it's quite possible that I just don't understand the logic because it was all in a world that I was not a part of. There were some that I understood. She was unpopular because she was fat or abrasive or socially awkward. But there were a number of them that I didn't understand at all. I don't understand either why they were unpopular or why they were as unpopular as they were. If I have a son like me, I'll have an idea of what to say or what advice to give if they ask me why other kids don't like them. If I have a daughter like Marianne, I won't have a clue.
About the Author
If you are interested in subscribing to new post notifications,
please enter your email address on this page.