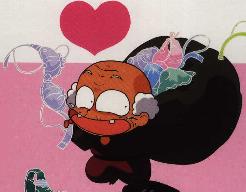 The legend of used panty machines in Japan is perhaps more fiction than fact. Oh, well. Happosai was still kinda cool.
John Nova Lomax writes about the deliberate transformation of Texas from a southern state to a western state. I don't blame Texas for wanting to move past its confederate associations. Would that more states had a way of doing that. I'm far more perplexed by people in Oklahoma, Missouri, Kentucky, and West Virginia who seem to feel some allegiance to something they should be trilled that they weren't (technically) a part of.
David Wheeler argues that Silicon Valley has declared war on Millenials.
New research suggests "plain packaging" on cigarettes reduces smoking's appeal to teenagers. Which I thought was cool because I am down with plain packaging laws. Unfortunately, they don't seem to be talking about "plain packaging" as much as "revolting packaging." Fortunately, we're less likely to find that horror porn come to fruition over here.
I bet you want to see some hilariously bad Kindle book covers, so here you go.
Sarah Rainey writes in the Telegraph about the Nazi Bride Schools.
I am not surprised that support for government redistribution is falling among the elderly (a lot of what they get, they don't see as such), but I am a bit surprised about African-Americans.
It's really, really difficult to describe why exactly watching little ones can be as exhausting as it is. There's just nothing to compare it to. Here's some research.
As the university becomes marketized, perhaps we should embrace a model where some students have to go to chapel, and others to workshops.
Todd VanDerWerff makes the case that the best sitcom of the '90's was NewsRadio. I'm not sure if it was the best – there's a lot of competition – but it's up there.
Caste-based discrimination is helping Christianity convert Indians.
About the Author
If you are interested in subscribing to new post notifications,
please enter your email address on this page.