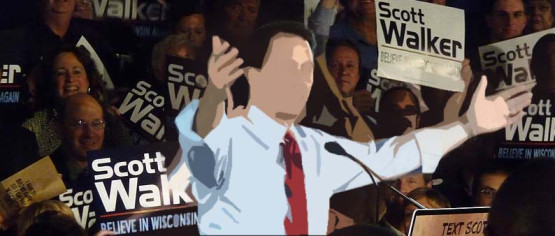 Over There, I posted about Wisconsin Governor Scott Walker's college career, and whether or not it should be considered in his run for the presidency:
There are a lot of professional positions that do not require a college degree. Ultimately, most don't, because if they did, they would go unfilled. There is also an argument to be made that a lot of jobs that do require college degrees probably shouldn't, though no doubt Okeem would disagree with that.

To be sure, there are jobs where college degrees matter a great deal. If I'm going under a scalpel, I probably want the scalpel-wielder to have either an MD or a DO or its equivalent. Engineers should demonstrate formal training in engineering. With rare except, teachers and professors should have their appropriate degrees. There is nothing elitist or snobbish about saying so.

It is perhaps ironic that executive positions are not always among that. He mentions, but dismisses the Bill Gates example. But after becoming an entrepreneur, Bill Gates did represent a gargantuan enterprise. Nobody thought that Microsoft's Board ought to have replaced him so that their company could be represented by someone with a degree. And if Bill Gates were to want to get back into the business world, he would be (and should be) judged entirely on what he accomplished in business. As far as hiring goes, the importance of a college degree is that it gives employers a greater degree of confidence that you can achieve. If you have already achieved, then it's beside the point.
I'm honestly a little bit (but only a little bit) surprised by the number of people who really stick to "it matters" and believe that a college degree confers something in accord with experience.
I think it can matter as a brick in the wall of a larger argument, that he is intellectually dim, lacks knowledge really important to the presidency, or doesn't follow through. To date, I don't find any such arguments convincing. In large part because of what he has accomplished since college. That's not an endorsement. You can look at what he's accomplished and say "There is no way I am ever voting for the guy!" but he's not a mayor of Wasilla and a governor who has barely gotten their feet wet. There's a record to look at that, in my view, has to be far more illuminating than the decisions he made twenty years ago with regard to his college education.
There also seem to be people who really believe that Obama's life and experience equipped him to be president more than Walker, including the part about Obama's BA and JD but also because the Senate is a better launching pad to the presidency. We've had a strong bias towards governors for quite some time, and I think it's quite possible that the pendulum has swung. I think the argument is actually quite solid that we've put too much stock in governorships. But I think four years as governor of a mid-size state is always going to trump two years as a senator, and there is little else in their background to strongly distinguish between the two.
Though this is not an endorsement of Hillary Clinton, I do think we overloop cabinet appointees too often, particularly Secretaries of State and Defense, and maybe Attorney General. I'd add Treasury, but it would probably do a disservice to the position for it to be considered a launching pad to the presidency.
Anyway, lots of comments over there. Feel free to leave your thoughts here.
About the Author
If you are interested in subscribing to new post notifications,
please enter your email address on this page.