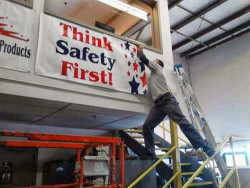 Google had the wacky idea of using solar-powered balloons to supply Internet service. It worked!
NASCAR driver Kurt Busch wants a protective order against his ex-girlfriend, who he claims is an assassin.
Less than wise: Taking selfies on an iPhone you just stole.
I was excited to hear about the Obama Administration's plans to scale back asset forfeiture. Looks like there may be less to it than meets the eye. Darn. Still better than nothing, I suppose.
In the words of one of the Popehats (Patrick or Ken), "The Internet is like a huge, violent maniac who shows up occasionally and beats the shit out of unlucky mean people."
Lost Beagle! Found! On Mars.
This is probably not good: A for-profit college investment firm now has a controlling interest in Inside Higher Ed.
The story of an 18-year old who plans to marry her long-lost father. I didn't know that "Genetic Sexual Attraction" is actually a thing. Here's another disturbing tale.
League of Ordinary Gentlemen alum Barrett Brown – since sentenced to five years – explains how he got kicked out of a prison.
Mitt Romney may or may not be the right man for the GOP in 2016, but a number of the arguments against him are a bit dubious. He has generally polled surprisingly well (recent ABC/WaPo poll aside), and I've thought that a lot of people have been too quick to dismiss him… if only because I don't see a whole lot of other better candidates.
Meet the guy who has seen it all before. Like non-stop, for the last eight years.
Colton Burpo did not come back from heaven, after all.
It's not often I say this, but I'm kind of with the rich New York lawyers on this one.
About the Author
If you are interested in subscribing to new post notifications,
please enter your email address on this page.