Tom Carmody has an instant classic piece on Iceman, a quasi-antagonist in Top Gun played by Val Kilmer. Carmody argues that between Maverick (Tom Cruise) and Iceman (Val Kilmer), Iceman is the one you want to work with:
From the beginning of the movie to the end, Iceman seems like the kind of pilot I want operating a fighter plane, whether it's the Cold War or tomorrow. He's not concerned with scoring points or showing off. He isn't going to pose with the enemy. He's not going to unnecessarily antagonize anybody or raise the geopolitical temperature. He wants to win, and to bring everyone back alive. He's just really good at what he does.

Maverick, on the other hand — okay, he scratches three MIGs to Iceman's one in the final dogfight. But he also seems like he might be a self-obsessed sociopath who should probably be in treatment and definitely needs to learn how to act his age.
Hard to argue with that. He also has some other examples of "bad guys" who were actually good guys. The principal from Ferris Bueller, for example. It's pretty hard to argue that one. He also mentiones everyone trying to get Axel Foley to tamp down in Beverly Hills Cope, which is not only true but also applies to half of the exasperated supervisors and weenie due process people in half of the cop movies ever made (especially when crime was high). He also mentions Walter Peck, the EPA prick from Ghostbusters.
There, of course, I have to draw the line.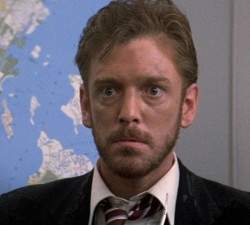 He'd have a point if he had intervened sooner, before the presents of ghosts had become so apparent. At that point, yeah I would think that it was a giant con job. Just about everyone would. But once it's a known thing, a reasonable EPA would be actually spending its time conferring with the Ghostbusters and finding out what exactly it is that they know and developing their own plan. Once you have an EPA task force or something actually doing something about the problem, then maybe you shut the Ghostbusters down. But Peck is so reviled not because the movie tilts against him (as is the case with the other characters) but because his character really is the consummate bureaucrat. There's obviously a problem, there is no known way of dealing with the problem, and here are people dealing with the problem, but since they're making a profit off of it and we didn't expressly allow it we have to shut them down.
Anyhow, here's a video on a pro-market view of Ghostbusters:
About the Author
If you are interested in subscribing to new post notifications,
please enter your email address on this page.