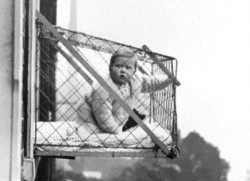 Zack Morris was kind of a scumbucket.
Aaron Renn praises the boring city, which he argues is mostly code for "stuff I don't like."
A WWII veteran was given a Viking funeral by the coast guard.
Brian Palmer's piece on his secular discomfort with medically missionaries got a lot of (mostly negative) attention, though I personally applaud its honesty. Matthew Loftis looks at the role of evidence in medical missionary work.
Marriott apparently made a habit out of jamming signals to get you to sign up for its WiFi service. Turns out, not only is that scummy, but it's against FCC regulations. (This is also why, for instance, movie theaters can't disable phones to prevent disruption of the movie.)
Tanya Basu writes about the gender politics of pockets (and smartphones). It does seem to me that a lot of women's clothes are impractical. Then again, I'm the guy who wears a phone holster and thinks everybody should be wearing utility belts (or at least belts, for chrissakes).
Yeonmi Park escaped from North Korea, and lived to tell the tale.
An estranged daughter in New Jersey took her parents to court over college tuition and won.
Batkid's cancer is in remission.
If there is a person that washes rent-control beneficiaries more than this guy, I'd love to hear about it.
My latent skepticism towards solar and wind energies revolve around price (not there yet but getting closer), scalability (progress!), and reliability (hurm).
The president of France is now easier to impeach.
This update on the state of DC Comics is giving me a headache. I have felt for some time that they needed to blow it all up and start over. Which it sounded like they were about to start to do, but they couldn't even do that all the way, and now they can't even do half-measures right.
About the Author
If you are interested in subscribing to new post notifications,
please enter your email address on this page.